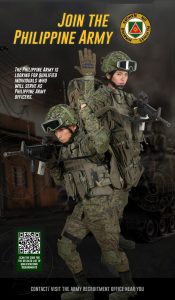 THE PHILIPPINE Army has started the recruitment of 1,050 new officers for its 2nd Cycle Officer Recruitment last Oct. 20.
Army spokesman Col. Xerxes Trinidad, said the 1,050 quota is part of the 2,109 total quotas for the Army officer recruitment this year. 
The Army has allocated 400 quotas for Officer Candidate Course (OCC); 400 for Officer Preparatory Course (OPC) Class 73 and 74; 100 for OCC-Reserve Officer Training (OCC-ROTC); 100 for Call to Active-Duty Tour for Training (CADTT); and 50 for Direct Commission.
According to Trinidad, the recruitment aims to continuously build up a force to advance the organization's operational gains and finally end the insurgency in the country.
 "This is a great opportunity for everyone especially the youth who wants to serve their fellow Filipinos and our beloved country," said Lt. Gen. Andres Centino, commanding general, Philippine Army. 
"The Philippine Army thoroughly selects the best and the brightest who will be the future military leaders of the organization carrying out the noble duty of protecting the peace and stability of the nation," he added.
To view the detailed qualifications and requirements, please visit the link below:
Or visit the Philippine Army Website here: 
https://www.army.mil.ph/home/index.php/join-the-army
Philippine Army Recruitment Contact Details:
ARMY RECRUITMENT OFFICE – LUZON
Fort Andres Bonifacio, Taguig City
Landline: (02) 845-9555 local 6843
Cell phone: 0945-704-2390
Facebook: Army Recruitment Office – Luzon
ARMY RECRUITMENT OFFICE – VISAYAS
Camp Lapu-Lapu, Lahug, Cebu City
Landline: (032) 231-5157
Cell phone: 0916-640-5919
Facebook: Army Recruitment Office – Visayas
ARMY RECRUITMENT OFFICE – MINDANAO
Camp Evangelista, Cagayan de Oro City
Landline: (088) 850-5279
Cell phone: 0939-954-7673 / 0927-332-1077 / 0926-467-4644 / 0917-712-1222
Facebook: Army Recruitment Office – Mindanao