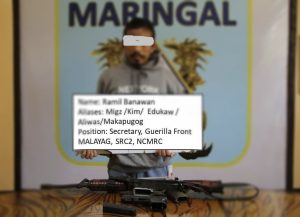 TWO HIGH-RANKING officials of the New People's Army (NPA) were captured by the soldiers of the 88th Infantry Battalion (88IB) in San Fernando Bukidnon on Monday, Oct. 25.
Lt. Col. Christian Vingno, commanding officer of 88IB, identified them as Ramil Banawan, 35, secretary of Guerilla Front (GF) Malayag, and Marcelito Bandingan, 18, team leader of Squad Uno, Platoon Uno, both from Guerilla Front (GF) Malayag, Sub-Regional Command 2 (SRC2) of North Central Mindanao Regional Committee (NCMRC).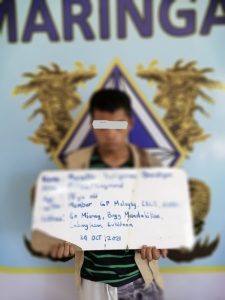 According to Vingno, the troops seized one AR-15 rifle with two magazines and one Glock 17 pistol with one magazine from the suspects. 
He added the two have standing warrants of arrest for committing multiple criminal acts such as destructive arson, murder, frustrated murder, attempted multiple murder, and violation of the Anti-Terror Law of 2020.
Lt. Gen. Andres C. Centino, the commanding general of the Philippine Army, lauded the operational success of 88IB.  "I commend the troops of 88th Infantry Battalion for their decisive action in capturing the leadership of GF Malayag that would lead to its eventual dismantling," Centino said.
"Continue to do your job well to ensure that peace and security thrive in your area of operation," he further said.