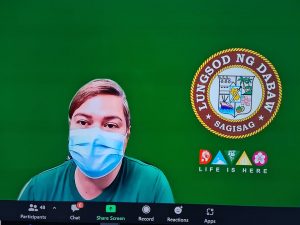 MAYOR Sara Duterte on Monday signed Executive Order No. 59 effectively lifting the curfew and also shortening the liquor ban from 1 am to 8 am., starting at 12:01 am on Oct. 26 until 11:59 pm on Jan. 15, 2022.
EO 59 is an order "Providing for the Modified Guidelines on Liquor Ban and the Lifting of Curfew Within the City." 
SECTION 1. LIQUOR BAN PERIOD. The ban on selling liquor shall be from 1:00 AM to 8:00 AM every day. As such, no person or entity shall sell liquor or any alcoholic beverages within this time period. 
SECTION 2. CONSUMPTION. The following are not allowed: 
* The serving of liquor for consumption in bars, restaurants, sari-sari stores, palengke (wet market), videoke, and other business establishments; 

* Drinking liquor in all public places including but not limited to streets, alleys, pathways, and outside of gates. 
SECTION 3. PRIVATE PROPERTIES. Alcohol may only be served and consumed inside private properties. 
SECTION 4. CURFEW. The curfew time in all public places is hereby lifted. 
SECTION 5. SEPARABILITY CLAUSE. If any provision of this Executive Order is declared invalid or unconstitutional, the other provisions not affected thereby shall remain valid and subsisting. 
SECTION 6. REPEALING CLAUSE. Executive Order No. 37 series of 2021 – An Order Extending Until December 31, 2021, the Liquor Ban and Curfew Within the City and all other orders or parts thereof which are inconsistent with the provisions of this Executive Order are hereby repealed or modified accordingly. 
SECTION 7. EFFECTIVITY. This Order shall take effect from 12:01 AM of October 26, 2021, to 11:59 PM of January 15, 2022. 
Speaking over Davao City Disaster Radio (DCDR) on Monday, the Mayor said also reiterated the use of face shields in the 3C's crowded places.
Section 1 the use of face shield shall only be required in the 3C's crowded places, closed contact settings a d confined and closed spaces. 
3Cs like swab sites, vaccination sites, evacuation centers, distribution of assistance, Comelec voters registration, are examples of crowded places.
The closed contact setting is the contact between individuals within 6 feet with each other and contact of 15 minutes or more.
Also, the mayor said in churches where there is an open setup or open windows, there is no need for the use of a face shield.