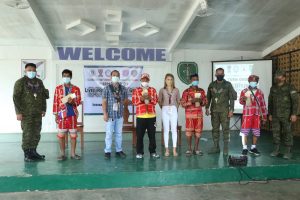 TO further empower indigenous students through education, Davao Light and Power Co. Inc. (Davao Light), together with its social development arm Aboitiz Foundation Inc., continues to give its annual support to National Commission on Indigenous Peoples (NCIP) Region XI and Mindanawon Initiative for Cultural Dialogue (MICD) scholarship programs.
In support of the NCIP's "Tabang Pa-Eskwela sa Tribu" Project, Davao Light donates school supplies, which will be distributed to far-flung areas of Marilog and Paquibato District, City of Davao.
NCIP-XI Regional Director Atty. Michael M. Mamukid and NCIP Provincial Officer Cristito D. Ingay expressed their gratitude for the company's continued assistance for the benefit of the indigenous students even in the midst of the ongoing COVID-19 pandemic.
"Again, thank you Davao Light for being a part of the Tabang Pa-eskwela sa Tribu 2021 project of NCIP Region XI," NCIP wrote in a Facebook post.
The donated 150 bags in total include notebooks, yellow pad papers, ballpens, pencils, erasers, ruler, crayons, and reams of bond paper.
Meanwhile, Mindanawon Initiatives for Cultural Dialogue (MICD), the community engagement arm of the Ateneo de Davao University, has also received financial assistance amounting to P270,000 to supplement its Lumad scholarship program.
Perpevina Tio, the Director of MCID gives thanks to Davao Light and Aboitiz Foundation for its yearly support that helped Lumad scholars get their college degree. She mentioned that it helped students a lot in their expenses for transportation, dormitory, food, and other needs.
"Gusto jud ko magpasalamat sa Davao Light sa ilahang suporta sa amoa ug wala pa gyud sila nag-undang ug wala gyud sila nakapoy sa pagtabang sa mga Lumad. We really appreciate the help and sustained assistance gikan sa Davao Light. Grabe kakusog ug ka-committed ang ilahang Corporate Social Responsibility. In behalf of Ateneo and Lumad scholars nga nakahuman, nakagraduate sa tabang sa Davao Light, we are so grateful," she added.
A beneficiary of the program Caren Luis, who's now a 3rd year student taking BSED Math, also expressed her gratitude to the program. She said that it helped them a lot financially, and the spending that's intended for her college expenses are now being spent on food and other needs of their family.
"Dako jud syang tabang nga gahatag silag support sa amoa for the whole year kay sila man naga provide sa among food ug uban pa – ilabi na karong pandemic kay lisod gyud sa amoa sa bukid kay among parents naglisod pud. Dako jud kaayo syang tabang nga karon nga 3rd year nako, konting push nalang," Luis said.
Davao Light has been of support to NCIP and MICD's program since 2015 and 2002, respectively.