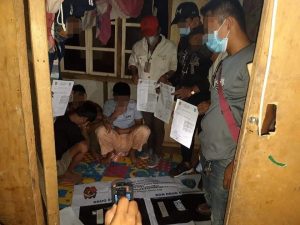 THREE alleged drug pushers were arrested by personnel of the Baguio Police Station in a buy-bust operation conducted in Toril District on Oct. 23.
Maj. Ricky Obenza, Baguio police chief, identified them as Amsari Minalang, 21, single; Danny Mansid Usman, 29, married; and Jainudinhusain Datumanong, 27, all residents of Lebak Sultan Kudarat and transients of Toril district.
According to Obenza, the three were selling sachets of suspected shabu with an estimated weight of 0.0056 grams to a police poseur buyer in exchange for P1,000.
Police also recovered the buy-bust money and two sachets of shabu weighing weight of 1.0162 grams with a total street value of P20,000 and a blue Vivo smartphone. The suspects will be charged for violation of Republic Act 9165 (Comprehensive Dangerous Drugs Act of 2002).