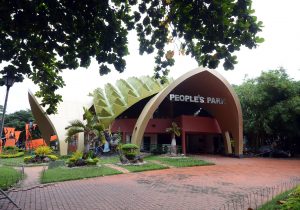 THE CITY government has opened the People's Park for vaccination on Saturdays so that those who do not have time on weekdays can also get their shots against COVID-19.
Dr. Michelle Schlosser, COVID-19 Task Force spokesperson, said this is part of the initiatives to lure more residents to get vaccinated so that the city can achieve herd immunity before the end of the year.
The park also holds drive-through vaccination especially for the elderly and those with physical disabilities.
The city government has also launched a vaccination program at night in some vaccination sites including the malls for those who do not have time in the day. It has also dangled incentives so that those who are having difficulty in getting inoculated because of their livelihood activities will be lured to get inoculated.
"In fact, dili lang siya Bakuna Nights, naa natay Bakuna on a Saturday. Mao na atong bag-o ron. Mag-open Saturday vaccination hub sa People's Park para sa mga tao nga dili kaadto ug weekdays," Schlosser said.
Schlosser added that those with brand preference will also have the opportunity to choose the brands that they want.
She added that the city council will also spearhead a house-to-house vaccination for those who have difficulty in going to vaccination sites.