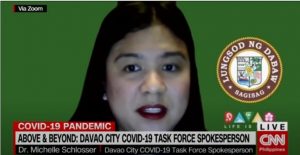 THE CITY government has urged establishments, business or otherwise, to ensure that minimum health standards are observed as they welcome more clients following the order to place the city under Alert Level 3 until the end of the month.
Although the order is expected to stimulate the economy as businesses are allowed to accommodate about 30% of their capacity, Dr. Michelle Schlosser, COVID-19 Task Force spokespokerson, said they must continue to implement key health measures so that the spread of the virus is contained.
She emphasized that those that were able to secure safety seal certificates can even increase their capacity by another 10%.
"Allowed na ang dine-in services for 30 percent capacity and with additional 10 percent if there is safety seal, ang naga issue ani ang LGU meaning nag follow sila sa atong standards. Dili lang sa ni restaurant, sa other venue center, hotels, tourist attractions," Schlosser said as she urged businesses to review activities allowed under Inter-Agency Task Force (IATF) Guidelines on The Implementation of Alert Levels System For Covid-19 Response In Pilot Areas and the Department of Trade and Industry (DTI) Memorandum Circular 21-34.
The circular spells out that under Alert Level 3, those establishments that hold gatherings can accommodate 30% of their capacity and can even increase the capacity by another 10% provided they are able to secure safety seal certificates.
Included in the establishments that are allowed to operate are amusement parks or theme parks; recreational venues such as internet cafes, billiard halls, amusement arcades, bowling alleys, skating rinks, archery halls, swimming pools, and similar venues; cinemas and movie houses.
Restaurants and other similar businesses are allowed to provide dine-in services subject to regulations in relation to curbing the spread of the virus.
However, Schlosser said allowing the operations of cinemas in the city is still a point of discussion because they are high-risk establishments because they can become a venue for   virus transmission.