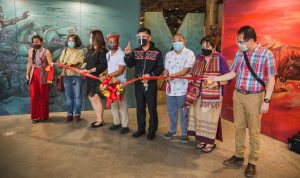 I STILL remember my late UP professor telling me that Davao was a cultural desert owing to its lack of vibrancy, vitality, and art and cultural activities.  This was in the early 1980's when Davao was considered the "Murder Capital/Killing Fields" of the Philippines.  Who could forget the high murder rate attributed to the Davao Death Squad accompanied by the intensified warfare between guerillas of the Communist New People's Army and the Armed Forces of the Philippines.  I would cringe and get defensive then when condescending people, especially those all-knowing ones from Imperial Manila, could so easily criticize Davao as such.  But, as the saying goes, some truth always hurts.  Two decades or so later, Davao has, thanks God, gone a long way that it has even produced the first ever Philippine President from Mindanao, Rodrigo Roa Duterte, much to the resentment of the opposing Imperial Yellowtards turned Unimpressive Pinktards nowadays.  In the course of the seemingly peaceful period of time under the strong-arm leadership of Duterte, economic as well as artistic activities gained new dimensions in "the Land of Promise" like never before.  Finally, change has come to Davao!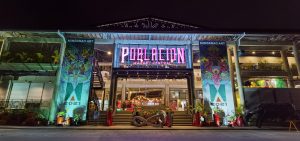 Does our society value art? Imagine how our beloved City would be a far less interesting place without the beautiful and evocative contributions of Davao's and Mindanao's artists.  The role of visual artists in helping bring about a shared understanding and appreciation for the rich cultural differences of the various peoples of Mindanao was what I had in mind when I went to see the Mindanao Art Fair 2021, reputed to be the biggest gathering of artists with their artworks in Mindanao held from October 1-31, 2021.  And what better venue to hold the art exhibition than at Davao City's newly opened Poblacion Market Center, the former site of the Madrazo Fruit Stand.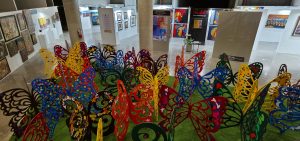 The exhibition's theme for this year is "Art in Between: Mindanao Art in Liminal Space."  "It is a recognition of where we all are in right now—in a space of ambiguity and disorientation.  The theme's narrative could be experienced right at the entrance of Davao's latest heritage-themed mall where you will find tree stump sculptures which symbolize how we have all been cut off from a lot of things that matter to us because of the Covid pandemic.  However, you will see that the tree stumps are sprouting again and have grown new branches, a representation of how we always manage to rise above the challenges that come our way," revealed Davao's most renowned contemporary artiste, Rey Mudjahid "Kublai" P. Millan. Kublai is the President of Lawig Diwa, Inc. which is responsible for putting up the Mindanao Art Fair 2021 with the much needed cooperation and support of the National Commission for Culture and the Arts and the National Committee on Art Galleries.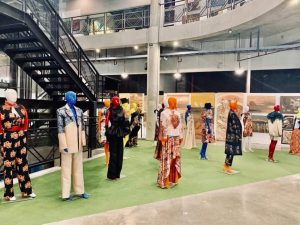 What is impressive is that more than 300 artists coming from 35 galleries established in various cities of Mindanao are in participation in this year's important art exhibition.  "This art exhibition highlights how the various Mindanaoan artists recover and move on with our changing times; and adapting to this so called 'new normal.'  This gives emphasis on their struggles, dreams, ideas, reflections, and hopes as they continue to live their lives as creative individuals in this uncertain period of time," Kublai expressed.  Naturally, Davao's artists have the most number of artworks on exhibit.  Featured paintings include those of Tanya Gaisano-Lee, Jag Bueno, Lucas Ranola, Boots Dumlao, Anthony Serafin, just to mention some.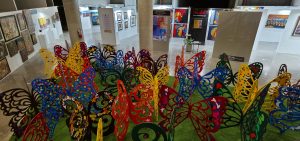 Indeed, "Art speaks where words are unable to explain."  Each artist tells his own story or expresses his own opinion be it on politics, ideology, social consciousness, self-identity, legends and myths, struggles and emotions, among many others.  Viewing the number of artworks on exhibit is surely going to overwhelm you. I cannot help but ask myself though if there is a demand for the exhibited artworks by Mindanao's still limited number of educated art patrons who could afford to buy them.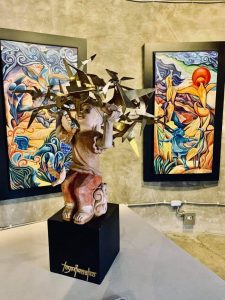 The creative paintings and sculptures of my favorite artist in the exhibit, Abdulmari Toym de Leon Imao, Jr., made me ponder on how the prices of his artworks on pop culture are determined. A sculpture of his which I liked readily gave me palpitations once informed of the price.  
       Definitely, Davao has somehow redeemed itself from its previous image as a cultural desert.  Art will remain relevant forever. Di bala, Kublai?