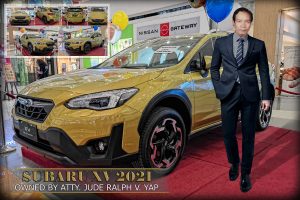 AS A boy of 5, Atty. Jude Ralph Villacin Yap was given a small red plane whistle by his mother Milagros. Close to 70 years later, he still has that small red plane whistle tucked where he can easily find it amidst the humongous collections of bric-a-brac, photographs and more photographs. 
The digital age has enabled us to always have the chance to take snapshots of our lives wherever and whenever we want. We have special moments with our family and friends captured in our gadgets but remain unseen and unappreciated for a long period of time, or maybe, forever.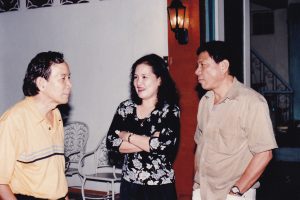 Printed pictures, especially when placed in ubiquitous places, allow us to relive memories and, when shared with others, reveal our passions, triumphs, milestones, the seasons of our lives and the company we keep.
Villa Villacin mansion, owned by Jude Ralph, is a treasure trove of photos not only of himself but of prominent people in the country with whom he had struck friendship with, over the years. In every nook and cranny, the photos tell his life story and to a wider extent, a glimpse of the city's history.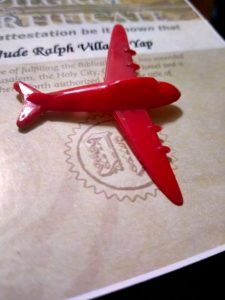 At a young age, he diligently kept class photos from Grade I to College, not missing a single year. His collection is so vast it could fit one huge museum if he so wants.
His choice of photos is eclectic, to say the least. From presidents, local and national film celebrities, diplomats, dignitaries, local politicians and the common folk – all of them are given a space of honor in the mansion. No money was spared in the delicate mounting of the huge portraits hung outside the walls and within its inner sanctum. The lay-out is like a homage to humankind.
He has photos of Presidents Corazon C. Aquino, Fidel V. Ramos, Joseph Estrada, Gloria Macapagal-Arroyo, Benigno Aquino III, and good friend Rodrigo Duterte.
Provocative photos of Marilyn Monroe, Britney Spears and local actresses also have a corner of their own, with Hollywood stars Brad Pitt, and many others. Needless to say, everyone gets to be represented.
Much has been written about the achievements of Jude Ralph and as he turns 74 this Sunday, October 24, he wants these images to tell the story about the blessed life he has lived.
In retrospect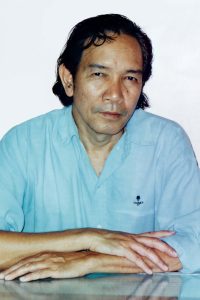 Last Tuesday afternoon, as he was working on  the finishing touches to the display in time for his birthday on Sunday, we were able to get his thoughts about life:
"I can say that I have mellowed over the years. Before I was quite self-centered. Now, I am more understanding and have more patience. I got a Masters degree in Psychology at the Ateneo de Manila but when I was younger, I did not apply it. I am doing it now and I am happy.
"Before, I doubted if God was really there especially when there was trouble in the family. But as I grew older, I realized: look at the universe, the earth is revolving around the sun with all the other planets, Mercury, Venus, Mars, Saturn… and they do not collide, there must be someone out there –  God, Allah, Jesus Christ…"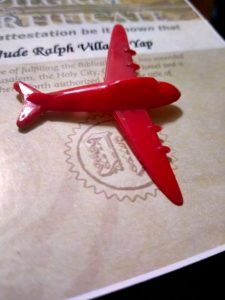 He becomes introspective, saying,"Man is a mystery in itself. Man is finite but God is infinite. The creator, God, made man in His likeness and image. So maybe, I surmise that once we die, if we follow the Christian doctrine, we will be one with God."
He subscribes to Abraham Lincoln's Gettysburg Address, reciting by rote the lines: "Four score and seven years ago our fathers brought forth on this continent a new nation, conceived in Liberty, and dedicated to the proposition that all men are created equal."
"All men are created equal," he underlines. "We are not perfect but if we follow the teachings of Christ, we would be happy. Too much greed is bad. In the Bible, He said it is easier for a camel to enter the eye of a needle than for a rich man to enter the kingdom of heaven. This may only be a parable but if you apply it to your daily life, if you have too much greed, you won't be happy. You need to be generous to your employees so they too can provide well for their families and live a good life. All these good feelings will come back to you.
"When I was an employee of Ayala (JVA), he gave me a bonus of up to 19 months because I was the Corporate Secretary of 32 companies. He was generous and saw how hard I worked for the company to expand his business.
And in everything, Jude Ralph said,"strive to be happy."
Villa Villacin Mansion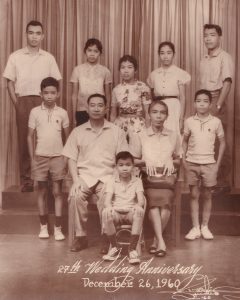 Jude Ralph said the mansion is their ancestral home and is named after his mother, a Villacin from Cebu province. It sits on a 4,000 sqm of lush foliage, with old Kamansi and Pili trees that he said were planted by his father and himself. Before, the property was vast but they decided to sell some of these in the past years.
Like many old families, his parents Raymund and Milagros, were migrants from Cebu, coming to Davao City shortly after the war in April 1947. His mother was pregnant at that time and gave birth to Jude Ralph on October 24 of the same year.
His parents were both public schoolteachers and although the Villacin family was prominent and well-off in Cebu, his mother decided to move to Davao to seek greener pastures as Mindanao was then known as the land of promise. Another reason, Jude Ralph said, was more personal.
Jobless when they arrived in the city, it was his mother who pulled the family together with her resourceful nature and shrewd business acumen. In no time, the Yap family was able to put up a small wooden house where the mansion is standing now, and over the years they have built it from the ground up. His mother forayed into real estate and acquired vast assets over the years with hard work and perseverance. She established cordial relationships with people and was culturally sensitive to the ways of the indigenous peoples and the Moro community for which she was much admired.
Way back in the day, it was common to have more than a dozen children so the family can be prosperous with the additional hands to run the business. Jude Ralph had 12 other siblings but only eight of them survived to adulthood. 
Jude Ralph's wife Minnie is an accountant living in New Jersey with their son John, 26, an aircraft engineer. She was supposed to come home to visit but the global health crisis came in the way. As a gift, she purchased a Subaru Evoltis, a high-end luxury family vehicle instead.
Music and laughter
The pandemic notwithstanding, he does not feel isolated at all, like most seniors. He has bonded closely to people who takes care of him. Amalia dela Cruz Geronca, his reliable girl Friday for an amazing 30 years, said they could not ask for a more generous employer who is kind and treats them like family.
Amalia's male counterpart is Michael Cornitos who is always at his side wherever he goes. Rommel Cuervo, Judith Espino and Deomarie Batibot complete his personal staff. They often go together on long trips, where Michael said, is also a Karaoke session. They have somehow memorized lyrics from way before they were born and learned to belt it out with as much passion as they could. A few wiggles, clapping and finger snapping are thrown into the mix.  Bobby Helms' love ballad "Fraulein" and Tom Jones' plaintive "Green, Green Grass of Home" are staple music fares.
Diane Silva, a good friend since they were in college at the Ateneo de Davao University, recalls how Jude Ralph was so generous and kind, even then. She described him as having a laid-back personality, cool and composed but has a sense of humor and is easy to get along with. After graduation, and even when Jude Ralph went to law school at San Beda in Manila, they continued to be in touch with some of their classmates.
As he turns 74 years old, Atty. Jude Raph Yap looks back gently at a life well lived, a happy life overall, through the photos that dominate Villa Villacin.