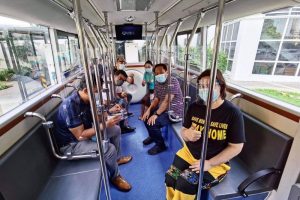 THE procurement process for the High Priority Bus System (HPBS) will this month, a national government official said Monday.
Department of Transportation (DOTr) Supervising Administrative Office Nestor Kilian Tabada said HPBS planning stage is in its final phase and that the procurement process will immediately follow so that the project, considered among the biggest projects in the city, will eventually be realized.
"This month, kining of October, diri na gyud mag-kick-off ang atong procurement. Mag-start na siya within a few weeks time kung dili man, until the end of the month. Pahumanay tong planning then pagsugod sa procurement," Tabada said.
He added that the teams involved in the implementation of the project, which is set to get completed by 2023, are preparing the documents so they can initiate the bidding process for the project.
"Mao pod na ang challenge karon. As we finalize the planning stage, and we step into the procurement phase, dapat klaro and kumpleto ang specifications sa atong project," he said, adding that there is a need to ensure that processes in the implementation of the project need to comply with the guidelines put out by the Asian Development Bank which is providing the official development assistance.
"Ang tumong lang man (is to) make sure ang kuhaon nga contracts nga buhaton para madeliver quality gani, world-class ang quality so those guidelines are in place so that quality and value for money nga makuha from these contracts," he said.
The key components of the project are the improvement of the public transport system, institutional capacity strengthening, and social development program.
Included in the first component, are our contract packages for the civil works; two for the bus fleets both diesel and electric buses; and the intelligent transport system, which will integrate the HPBS system that includes the automated fare collection system, traffic signal priority, real-time passenger information system an app that helps the passengers track the busses. Another contract is for the general contractor.
The second component is mostly for consultancy as the company that will get awarded for this will be eligible to operate the bus fleet that will also involve the organizational planning capacity building. It also needs to operate a driving schools for bus drivers.
The third component needs consultants that can implement the social development program with backgrounds in external monitoring and evaluation.