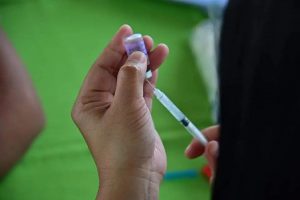 THE city government is intensifying its vaccination program against COVID-19 with the launching of the drive-through vaccination at the People's Park and the house-to-house vaccination drive particularly for both the elderly and those with disabilities.
In the interview over Davao City Disaster Radio Wednesday, Dr. Michelle Schlosser, COVID-19 Task Force spokesperson, said the intention in the implementation of these initiatives is for the city to achieve the herd immunity by December.
The house-to-house initiative, Schlosser explained in an earlier interview, is being spearheaded by the Office of the Vice Mayor and the Liga ng Barangay with the help of the senior citizens association.
"If we need to do house to house, ang isa sa mga measures nato to be able to secure na makita nato ning senior citizens is mag coordinate sa ilahang mga association sa senior citizen sa barangay. Pangutan-on isa isa kung kinsa ang wala pa didto na vaccinate. Kadtong gusto magpavaccinate dili makalakaw kay bed ridden so we will be doing house to house pangitaon and i-house to house to senior citizen na wala pa na vaccinate" she said.
Being the lead in the house-to-house campaign, the Office of the Vice Mayor Sebastian Duterte issued on Tuesday the  guidelines as the drive can only cater to senior citizens, those with disabilities and others who have the difficulty in visiting vaccination sites.
Those who want to avail of the campaign should text their personal information to 0970) 274 7025 for Smart/TNT; (0995) 175 0064 for Globe. They will then be contacted for screening and scheduling.
This developed as the city government announced that those who want to get inoculated for first dose on a walk-in basis can just visit some vaccination sites provided there are still available shots.
For District 1, first doses are administered at the Magallanes Elementary School, F. Dizon ES in Bacaca, Gaisano Mall at J.P. Laurel Avenue, Davao City National Hight School , SM City Davao along Quimpo Boulevard, Matina Aplaya ES, and A. Mabini Elementary School while in the Second District, the vaccination hubs are SM Lanang Premier, Buhangin Central Elementary School, Tesda Korphil Bunawan, Philippine Ports Authority in Sasa, and Malabog Elementary School in Paquibato.
For Third District, the sites are  Malagos Elementary School, Calinan Central Elementary School, Marilog Elementary School, Gaisano Mall Toril,  Don Juan Elementary School in Toril, and Mintal Central Elementary School.
It added that the Almendras Gym, San Roque Elementary School, and University of Southeastern Philippines Gym in Bo. Obrero, V. Hizon Elementary Sch in Sasa, and the People's Park are also special vaccination sites.
Interested individuals are required to bring a valid ID, Safe Davao QR Code, and ballpen. 
Meanwhile, 972 inmates at the Davao City Jail received the first dose of AstraZeneca vaccine on September 23. Of those vaccinated, 168 were women, 107 were thsoe with comorbidities, and 13 were senior citizens.