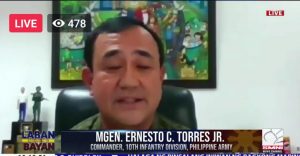 A TOP military official is confident that the government can defeat the communist insurgency before the end of the year.
Major General Ernesto Torres Jr., 10th Infantry Division commander, said that more members of the New People's Army have surrendered and have formed into people's organizations (PO)that have become instrumental in the implementation of peace and development efforts of governments.
"Ang ginagawa natin ang mga PO, we are federating them in every municipality for example the case of POs in Maragusan there are about 21 POs what we did we bring them close to the mayor of Maragusan and the mayor took cognizance of the important of the federated POs," he said.
Because of the initiative, he added, the mayor put up a desk at his office that serves as a bridge between the POs and the agencies, be it local or national.
He said this becomes the template for other areas with the command's area of responsibility.
"So that the livelihood programs will continue; so that they will earn for themselves. Veryery important na sila ay kumita sa kanilang sarili at maibalik yong dignidad," he said.
Another goal of organizing these former rebels into groups, he added, is for them to protect themselves.
Based on the data of the division, only 12 barangays in Davao Region have remained under the influence of the outlawed armed group. In 2017, there were 193 barangays under the influence of the rebel movement.
"Malaki na ang gains yun po paano natin sila maibalik through massive CSP (community support program) deployment," he said, referring to the program that provides projects to the communities.
He said the military has also joined other government agencies in providing basic services to the communities.
He said the military will continue to be aggressive in reaching out both to the former rebels and those who want to return to the folds of the law.