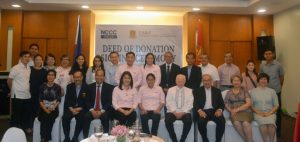 DAVAO CITY – Another prestigious academic institution is expanding in the city through a partnership with a homegrown company.
Lafayette Lim, NCCC Group of Companies chief executive officer, said during the Davao City Chamber of Commerce webinar Wednesday, that the University of Asia and the Pacific is building a business school at the project of his company in Panacan.
"This would translate to future corporate leaders and skilled workers," said Lim, although he did not provide more details of the project.
He cited the education sector as among those "flourishing in this region as big and well-known universities in the country are now having their presence here in Davao City."
Among those that have built their extension campus in the city as of late are the Malayan Colleges of the Mapua University and the Lyceum of the Philippines of the Laurel group.
In Panabo City, the Davao del Norte city which is adjacent to the northern side of the city, the University of the Philippines-Los Banos is also setting up its graduate school in the mixed-use project Agriya of the Floirendo group.
The UA&P, according to its website, "is a private, not-for-profit institution of higher learning that offers some of the most outstanding academic programs in Asia."
The campus will be located in the new mixed-use seven-hectare project of the NCCC (New City Commercial Corp.) on the northern side of the city.
Although the development of the new project has been stunted, the company about five years ago said it would not only house a mall but would become the location of an international hotel brand.
Another plan of the project was to build a convention center near the hotel.
NCCC has become synonymous with homegrown retail after Lim's grandfather, Lim Tian Siu, set up a store along Magsaysay Ave. in 1978 which was to become the first big department store of the group.
It has since established its presence in Mindanao and in Palawan, where it has a mall and a resort.
At present, among the projects of the company are the redevelopment of Victoria Plaza, the first mall of the city which it bought from a bank that possessed it from its owner, the late Robert Limso, and the mall and condominium project in what used to be its mall in Matina which a huge fire destroyed in 2017 that resulted in the death of 38 individuals.