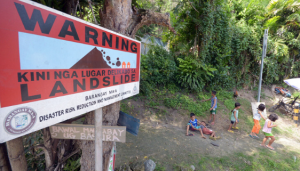 THE DAVAO City Disaster Risk Reduction and Management Office (DCDRRMO) has advised the public, especially in hazard-prone zone areas, to brace for possible flooding and landslide during the La Niña season. 
Alfredo Baloran, chief of the CDRRMO, said during the Davao City Disaster Radio on Monday that residents could expect continuous rain and thunderstorms during the La Niña season, which is expected to extend to the first quarter of 2022.
"Among gihangyo ang tanan nga kaigsoonan nga naa sa mga hazard areas, kaigsoonan nato nga nagpuyo sa mga landslide prone area, delikado ang inyong ginapuy-an kay kung successive ang pagbunok sa ulan, mahumok ang yuta sa bakilid, delikado sa landslide (Based on the forecast from Pagasa this will last until first quarter of 2021. We advise everyone who are in the hazard areas, those who are in living in the landslide-prone areas, the successive rains soften the soil in the slopes, making the area at risk to landslide)," Baloran said.
On Oct. 4, Baloran said that a landslide damaged three houses in Purok 64, Barangay Talomo Proper, affecting a total of 20 individuals, who are now temporarily sheltered with their relatives. 
The landslide happened during the intermittent rains in the afternoon and evening brought by Typhoon Lannie.
He said that his office already sent letters, warning residents in hazard areas and reaching out to barangay officials even before the landslide.
"Giinform sila nga ang ilang gipuy-an, naay impending hazard na mahitabo sagunson nga pag-ulan ug mangita sila'g safety nga lugar aron dili sila maapektuhan (They informed them that their area will be affected by the landslide on the onset of the continued rain and they should find safety place)," Baloran said.
He also warned residents living in low-lying areas to always monitor weather conditions that may cause floods. "Dali [sila] maapektuhan sa kusog na pag-ulan ug pag overflow sa atong mga creeks ug sa atong dagkong suba sa Davao City. Duna kitay unom ka dagkong suba, gina remind nato ang kadtong mga kaigsuunan na wala pa namalhin ug nagpuyo sa mga river paths, daplin sa suba, kanunay mag-alerto, mag voluntary lang ta atong gipuy-an mangita ta safety sa pamilya (They are prone to the effects of heavy rains and overflow of creeks and the big rivers of the city. The city has six big rivers. We remind those who did not transfer and are still living in river paths, along the rivers, to be always alert and to voluntary evacuate when needed for the safety of family)," he said.
Residents can track the latest updates on weather conditions through the official Facebook page of the Davao City Disaster Risk Reduction and Management Office and the City Government of Davao Facebook Page.