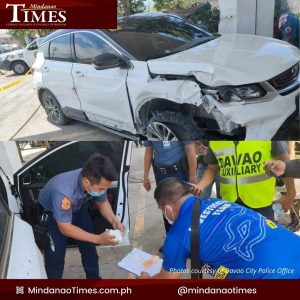 A 39-YEAR-OLD man was arrested by the police after a chase when he ran through the Task Force Davao checkpoint in Lasang (Barangay Alejandra Navarro) yesterday morning.
Capt. Rosario Aguilar, the spokesperson of Davao City Police Office, identified him as Roy Conrad Tabacon Calzada, businessman, married, and a resident of Barangay Mankilam, Tagum City.
According to Aguilar, Calzada was driving his white Geely CoolRay when he disregarded the checkpoint. The police immediately gave chase that ended at Km. 22, Bunawan District when the suspect crashed into the Sea Oil gas station. 
He was handcuffed while being tended to by the authorities. Upon the search, they found two sachets containing a white substance containing alleged shabu. For now, the arrested person is already under the custody of the Bunawan Police Station waiting for the charge against him.