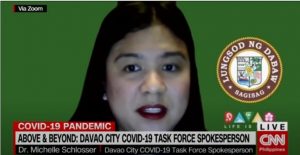 AN OFFICIAL of the Davao City COVID-19 Task Force assured that there is no "vaccine wastage" in the city, saying that contingency plans were laid out to prevent such incidents.
During the Bida Bakunado program aired on the Davao City Disaster radio (DCDR) on Friday, Davao City COVID-19 spokesperson Michelle Schlosser said that Davao City has not recorded spoiled jabs since the start of its inoculation drive in March.
"As much as possible, we do not allow it. Although naa tay tong mga hapit, siyempre naa man nay mga expiration date, mahimo na siyang wastage. Before it expires, we have a contingency plan para dili jud siya ma wastage kay sayang kaayo (Although some vaccines are nearing their expiration dates, we have a contingency plan to prevent it from being labeled as wastage)," Schlosser said.
Acknowledging the cost of each vial and the limited supply, she said that they make sure that every vaccine is administered before it reaches its expiration dates to prevent spoilage.
One of their contingency plans is rolling out the vaccines to the persons deprived of liberty (PDLs) and jail personnel inside the Davao City Jail to keep them protected from the threat of the virus while inside.
"Dili jud siya ma-waste. We are trying to conserve our allocation kay dili baya basta-basta makakuha ug allocation (The vaccines will not be wasted [because we have contingency plans]. We are trying to conserve our supply because it is not easy to get an allocation of it)," the health official underscored.
In September, the Department of Health (DOH) confirmed that at least 10,000 doses of coronavirus disease (COVID-19) vaccines have gone to waste in some parts of the country due to various reasons such as mishandling of vaccines and improper storage, among others.
She added, "Kanang wastage, murag sakit na sa amoa maglabay ta og vaccine. Daghan gusto magpa-vaccine pagkahuman dili mahatag. As of the moment, wala pa tay ing-ana nga incident. We have a contingency plan for that [It will sadden us for instance we will have vaccine wastage. A lot of people want to get vaccinated then they will not get one just because of spoiled jabs. As of the moment, we have not recorded such incident)."
This week, Davao City was allocated 468,000 doses of Pfizer BioNTech Comirnaty donated by the United States government through the COVID-19 Vaccines Global Access (COVAX) Facility. It is the largest shipment of vaccines in a day since the beginning of rollout.
Schlosser remains hopeful that they will achieve an average of 15,000 vaccinees per day with the new supply and additional vaccination sites.
Meanwhile, based on the report of the city vaccination cluster as of Oct. 5, the city already registered a total of 646,248 fully vaccinated individuals while 646,248 Davaoeños have been injected with the first dose.
In the priority group, a total of 54,165 individuals who belong to the Priority A1 (Health Care Workers) were fully vaccinated while a total of 61,436 have been administered with the first dose; Priority A2 (Senior Citizens) 1st Dose: 91,673 and 2nd Dose: 85,365; Priority A3 (Persons with Comorbidities) 1st Dose: 170,571 and 2nd Dose: 148,174; Priority A4 (Essential Workers) 1st Dose: 372,757 and 2nd Dose: 321,935; Priority A5 (Poor Population) 1st Dose: 74,488 and 2nd Dose: 36,609.