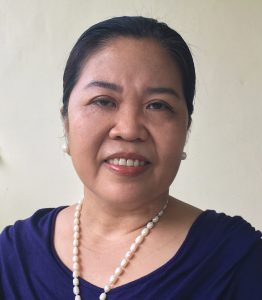 ELECTION is coming and newsfeeds are mostly about it. Our family conversations over meals have also shifted. My children are old enough to have their own views on politics and other social issues, so we encourage them to engage being qualified voters themselves.
As I was browsing through my newsfeed, I saw some comments on one news article that hit a nerve. My city was criticized as a city of clowns and a nest of corrupt and evil people. I knew I should not take random comments on the internet seriously, but that made me look for the story I wrote 10 years ago. I witnessed the transformation of this city and not many people know how much it is different now from when I was in my elementary years.
As a daughter, a housewife, a mother and an ordinary citizen who grew up in Davao City, I'm sharing this little story as a tribute to all unnamed people who made my city now a safe place for my family. 
***
An Excerpt from
The Girl from Nicaragdao
By Ruth Sitchon Morales
January 18, 2011 
In early 80's, my family lived in a district known as "Nicaragdao", a name coined after the district's name, Agdao, and the then strife-torn Nicaragua. Our place was also called "The Killing Fields" (remember the British film in the 80s about the Khmer Rouge regime in Cambodia?) and there was also a village close to ours that was called "Baryo Patay" (Killing Village). I was 10 and was already exposed to such ordeal where gunfire would wake me up in the middle of the night, and where my mother would pile everything up on our wall: tables, chairs, and basins, just to thicken our wooden wall and to make it a bit like bullet-proof wall to keep all 6 children safe until the break of dawn. I would be most glad whenever my father would be on a business trip when things like that happened because men would be asked to either join the insurgent group fight against the military or be searched by the government armed forces. It depends on what group comes first. I feared more for my father to be caught in trouble with either group than for me to be hit by stray bullets. 
I remember one evening, one very bright night, brighter than daylight, huge searchlights were installed behind our house. Military men lined up on the bridge behind our house and aimed their guns toward our house while the rebels congregated in the one-goal basketball court in front our house. They were shouting in unison "US-Marcos ibagsak!". The air was filled with smoke. I could tell it was marijuana. Maybe the smoke made that 10-year-old girl braver because I refused my mother's urgings to stay inside when I needed to go to the loo outside the house. Our rented house was built by the river and the outhouse in stilts was on it. So, you can imagine my little twigs of legs shuffling on wooden planks to get to the loo on time. I've seen, through the cracks on the floor, armed men crawling to get to the other side. No one noticed me. Hah! I was invisible and invincible.
After few years of watching my city battled for peace, I thought I was old enough to write something about it. So, I set an appointment with a relative to interview him for more details. I wanted to write about "Alsa Masa" (which is now forgotten). I knew he could help me with details because he was involved in the operation against the rebel forces in our district. I only knew about his involvement when he was in the hospital gasping for his breath. He was a policeman on duty when a grenade near him exploded. My older sister washed his bloody shirt, tattered with holes. No one could believe he survived all the splinters that have gone deep into his flesh. 
That interview didn't happen. The topic was still too overwhelming for a teenager like me. But here I am now, unraveling stories never yet told. Perhaps you may find this heavy and strong, and never expected coming from a simple housewife and a mother as I am. But there are things I saw that the girl in me needs to let go, some thoughts that were never aired before, and maybe never again. So, give this girl a chance.
***
What I witnessed in the past were images that a ten-year old child could not process and so she buried them deep into the abyss of her consciousness. At times when words of ridicule and mockery are thrown against my city, they seem like an insult to the blood that was shed for the peace we have now; a mockery to a terrified mother who went panicky to keep her children safe; a cheer to the bullet stuck forever in the head of a childhood crush; and a push on the Injan pana (Indian arrow) that struck the heart of the man I saw running for safety to our balcony! 
In my city, we played no jokes. Real battles were fought to enjoy the peace and order that our children enjoy now.