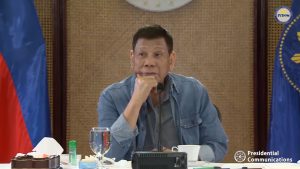 MARAWI CITY, Lanao del Sur (PIA)–During his Talk to the People aired Friday morning,  President Rodrigo Duterte confirmed that he will attend the inauguration of the newly-repaired Grand Mosque in this City on October 17.
Task Force Bangon Marawi (TFBM) chairperson and Housing Secretary Eduardo del Rosario shared the improvements of the biggest mosque in Marawi in a meeting which the President has convened. Grand Mosque is among those places of worship that are repaired inside the most affected area of the City.
Del Rosario then asked Duterte if he can attend the ribbon-cutting ceremony of the Grand Mosque which the President answered that he will attend.
"Yes. Pumunta pa nga ako during war time, lalo na peace time na and I even went there during war time, what more now during peace time, [that is] something that we can be proud of," the President said.
To date, TFBM has already inaugurated four mosques inside MAA namely Disomangcop Mosque, Masjid Darussalam, Marinaut Masjid, and White Mosque.
The TFBM chief also presented the accomplishments of the 56 implementing government agencies for the rehabilitation of efforts of the City. He said that 30 projects have been completed and more projects will be completed until the end of the term of the president. (LELA/PIA ICIC)