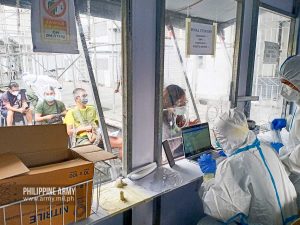 THE military has deployed medical teams to two hospitals in the National Capital Region to help the health facilities in dealing with COVID-19 cases
Colonel Xerxes Trinidad, Philippine Army spokesperson, each team has a doctor and four nurses as the Armed Forces of the Philippines complies with the order of President Rodrigo R. Duterte for the uniformed units to assistant hospitals that have been overburdened by the infections.
Earlier,, the Army also deployed four other units to augment the One Hospital Command 
The teams were deployed to Joint Task Force-NCR- Ninoy Aquino Stadium Swabbing Center; JTF-NCR-Bagong Nayong Pilipino Isolation Facility; JTF-NCR-Rizal Memorial Coliseum Isolation facility; and, at the One Hospital Command Center.
It also sent medical teams to Cebu and Davao last year to assist healthcare workers in fighting the virus.
The military unit has also been fast-tracking the processing of appointments of more medical personnel as it tries to improve its medical capabilities.
Lt. Gen. Andres C. Centino, Army commanding general, said the military unit is ready to deploy more healthcare personnel to hospitals t of the Philippine Army, expressed his support for the deployment of medical personnel to hospitals in NCR that need help.
"We support the government by providing Army medical personnel to assist the hospitals in NCR and other parts of the country dealing with COVID-19 patients. The Philippine Army is always ready to extend services to our people, especially during these trying times," Centino said.