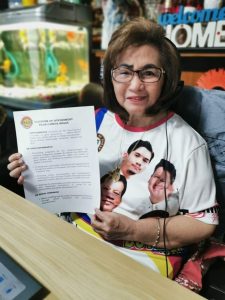 Privilege Speech 19th City Council Sangguniang Panlungsod
By: Councilor Pilar C. Braga
 TODAY is a special and great day for all teachers. In their honor, allow me to share some special thoughts for them.
Teachers are like candles, they consume themselves to light the way for others.
Teacher's month is celebrated every year on the months of September and October, and October 5th is World Teachers Day.
By virtue of Proclamation No. 242 issued by then President Benigno Aquino III in 2011, the period from September 5 to October 5 of every year is celebrated as National Teachers Month.
The proclamation cites the occasion as an opportunity "to celebrate the unique role and service that teachers play in guiding families, strengthening communities, and building the nation."
Today is the day set aside for those who are dedicated to their profession as teachers and educators. I am a teacher, and today I have received text messages, e-mails and greetings from my students who are now teachers themselves. They remember me on this auspicious day as their beloved teacher and my heart swells with pride. I feel happy to receive their greetings and good wishes every year on this particular day.
Teachers make teaching more enjoyable by sharing simple stories of joy and happiness. Students look for good teachers who can inspire and motivate them. Therefore, teachers have to learn more about education technology and update their knowledge regularly to be able to attain the highest ideals of education. It helps not only the teachers but also the students, themselves and sharpen their skills in knowledge, in the art of teaching and interpersonal skills.
In every Teacher's Day, teachers are being honoured everywhere because through order and chaos, rebellion and disease, strife and harmony, flood and drought… teachers persist to thrive in their work of bringing light and liberation to the people through education. In honor of teachers everywhere today, allow me to share these touching and uplifting quotes about teachers:
Teaching is the profession that teaches all the other professions.
Teachers don't impact for just a year, it impacts for a lifetime.
A good teacher is one who can understand those who are not very good at explaining, and explain to those who are not very good at understanding.
God can't be everywhere; that's why He made mothers and teachers.
A little child is like a worthless stone on the road. Teachers make him, shape him, polish him and shine him to produce a gem.
Teaching is not just hard work, it is Heart's Work.
 I am a Teacher
 I am not a soldier
But I go to war every day and
Hold the most powerful weapon in the world.
My army consists of naïve and untainted minds
To whom I offer my battle scars – the gift of knowledge,
And wisdom my mentors have taught me years before.
I train my men not with guns and bombs,
But with books which are just as explosive.
I am not a doctor
But I treat wounds not with bandages and antiseptic
But with words which are just as therapeutic.
I have won many battles in my life.
I have healed many people.
I am a teacher and I am proud to be one!