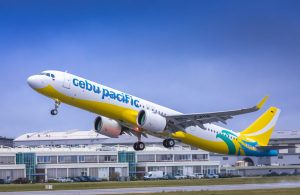 THE PHILIPPINES' leading carrier, Cebu Pacific enters the fourth quarter of 2021 with a focus on ease and safety of air travel across its domestic network, coupled with a full-on commitment to aid in our nation's fight against covid through a flyer-focused approach.
CEB recently reached a milestone of delivering over 10. 6 million doses of life-saving COVID 19 vaccines across the Philippines 27 provinces. Notably, the airline has transported over 1.4 million, 1 million, 600,000, and 400,000 doses of vaccines in its key domestic hubs of Cebu, Davao, Iloilo, and Bacolod respectively.
"Cebu Pacific is here to make air travel inclusive, affordable and accessible. We also support the government's vaccination drive because, aside from rebuilding travel confidence, it will help the entire nation recover from the economic wounds inflicted by COVID," said Carmina Reyes-Romero, CEB Director for Corporate Communications.
To boost safety and ease during the pandemic, CEB also accelerated its digital innovation and transformation while revolutionizing the customer experience and booking behavior – through its new technologies, products, and services offered.
Besides the ease and convenience of digital booking and payments, Cebu Pacific has also enhanced its 'Manage Booking' portal to allow passengers to correct and update information as needed, such as misspelled names, birthdates, addresses; manage group bookings easily, and update contact information to directly receive notifications via email or SMS. 
The airline has also further improved its online check-in experience with self-service bag-tagging kiosks at the NAIA Terminal 3 to further lessen physical interaction between passengers and staff, thus making the journey even safer and more contactless. 
Aside from the regular seat sales, CEB offers products to make everyJuan's experience convenient – like inflight meals, seats, baggage allowance, insurance, hotel partners, and transfers. These can all be easily added online via the CEB website or mobile app, conveniently available at your fingertips, within the comforts of your own homes.
On top of that, the airline also improved its chatbot named Charlie, who is now able to instantly address more common concerns of guests flying with CEB, such as flight schedule and status, check-in process, itinerary and boarding pass retrieval; or lead them to the right steps to address their concerns, without having to speak with an agent.  
To date, about 96 percent of CEB's flying pilots and cabin crew are already vaccinated, and it expects to complete employee inoculation by October this year.