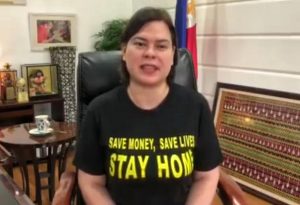 AT least 3,000 farmers, workers, youth and common folks in all of 37 barangays of the Municipality of Maco, Davao de Oro, have signed a petition to urge Mayor Sara Duterte-Carpio to run for presidency.
According to Hugpong para kay Sara (HPS) Maco chapter coordinator Jun Cagaanan this is just an initial number since more and more volunteers are signing up to join the movement.
"The next six years is going to be very crucial for the country's continued progress. We need a leader who has the political will, competence and grit to govern the country coupled with a heart and empathy to help especially those who have less in life," said Cagaanan who believes that Mayor Sara is that leader.
The chapter hopes anyone and everyone, from the various sectors of the municipality, who believes in Mayor Sara to join the movement, regardless of preferences in the local politics.
"Whomever our respective local candidates are, we are united in one goal: convince Mayor Sara to file by Oct 8 as a candidate for the country's highest post. This is the immediate goal, and once she does, the next goal is to make her win, with a landslide victory at least for our part in the municipality of Maco."
The signed petition has already been submitted to the HPS Chairman, former Davao del Norte governor, Anthony del Rosario. The 3,000+ signatures will form part of HPS' goal of an initial 50,000 supporters in order to seek audience with President Rodrigo Duterte who also accepted PDP's nomination to run for vice-presidency. Mayor Sara has said previously that there can only be one Duterte to run for a national post.
Launched on Sept 13, 2021, HPS is a citizens movement which aims to enjoin millions of Filipinos, from all walks of life, to convince Mayor Sara to run and eventually become the country's 17th president.
#
For further information, please don't hesitate to contact:
Jun Cagaanan
HPS Maco chapter coordinator
0942 295 0178