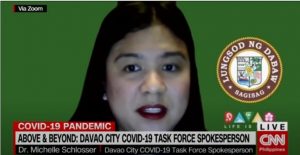 THE DIGITAL vaccination certificates will also address the proliferation of bogus vaccination cards as a digital certificate will have a number and key information about its holder, a city government official said yesterday.
Dr. Michelle Schlosser, COVID-19 Task Force spokesperson, said Tuesday that certificates will have unique features that are necessary especially those who are travelling abroad because some countries have required those entering their nations to be fully inoculated.
"Ang vaccination certificate very needed kaayo ni siya when you travel especially sa mga OFWs. Naa tay mga countries that are requiring vaccination, fully vaccinated individuals. Moa jud ang pinaka-purpose ani niya)," Schlosser said.
This developed as Schlosser identified the two venues for night vaccination which has yet to be implemented.
She said the schedule of vaccination at night will be between 3pm and 8pm at the San Roque Elementary School in Barrio Obrero and at Almendras gym.
She said the city government decided to implement the night vaccination schedule to address the need for those who have no time to get inoculated at day time, particularly those working individuals. 
"Naay sectors Dili makahigayon adto during morning so One of the ways nakita sa Propose na ug bakuna nights from 3pm to 8pm but before 8pm dapat naa na silA," she said.
As of September 16, based on a city government report, there were 433,478 fully vaccinated and 677,415 with first doses. The city government intends to provide full shots to 1.2 million.
"Also, we would want nga ma-access gyud siya sa bawat individual if they want a certificate whether traveling sila or dili. Again, the final rollout to other LGUs outside sa initial nga na-launch will be on September 30," Schlosser added. 
She added that the City Information Technology Center has coordinated with the national government for the launching of the online program. 
Schlosser said this is because local government units are required to submit the list of vaccines through their respective Vaccine Information Management System which will be integrated to the program.
The city has not been included in the pilot of the program as it is only initially rolled out in Metro Manila and Baguio City for foreign travellers and overseas Filipino workers.