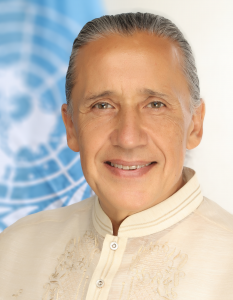 ACCORDING to a recent report by the UN Secretary General, "we are at an inflection point in our history" with humanity facing an urgent choice between a breakdown or a breakthrough.  The Coronavirus, conflict and climate change are wrecking havoc and undermining our ability to reach development goals. Poverty, discrimination and violence mean that millions of people around the world are denied "health, safety, a vaccination against disease, clean water to drink, a plate of food or a seat in a classroom".
Our Common Agenda emphasizes the need for solidarity and cooperation to address these and other challenges facing the world today. Central to this, the UN Secretary General calls for a revival of the social contract – the arrangements and understandings of how people find solutions to shared problems, manage risks, deliver public goods, and implement norms and values. 
Mirroring the UN Secretary General's call, the global theme for the International Day of Peace, celebrated on 21 September every year is "Recovering better for an equitable and sustainable world".  This reflects an increasing understanding that the essence of peace cannot be found in Security Council resolutions or treaties but is about the myriad of large and small actions and decisions that impact on individuals, families and communities. An equitable and sustainable world is one where people have access to food, to security, to education and health, and to justice. Where people are empowered to participate in decisions that affect them, and consider their impact on the environment. Consequently, efforts towards peace must address a broad range of factors that drive conflict and inequality.
In the Philippines, an increasing number of joint interventions bring together different areas of expertise from within the UN system to collaborate with national actors in the search for comprehensive solutions for current challenges. For example, by implementing programmes to strengthen social protection systems and resilience in BARMM, the UN is contributing to ongoing Government efforts to reach the most vulnerable groups and build more peaceful societies where the rights of all citizens are protected and realized.  Efforts to resolve the conflict in BARMM ultimately hinges not only on transformation to nonviolent means of expressing grievances, but also on the Government's ability to provide social protection, to empower people, and to overcome patterns of discrimination and marginalization.
Global experience has shown that women, youth and other often overlooked groups are critical stakeholders who have much to contribute at all stages of peacebuilding. When we insist on inclusive processes that give space to a wide range of community voices, we ensure that agreements  are meaningful for those who have been most impacted by conflict – by paving the way for schools, livelihoods and the freedom to exercise one's culture. This must also include protecting those who speak out against injustice, for the protection of the environment or to secure fair working conditions. These are all steps that are needed to restore the social contract. 
The human rights framework provides a vehicle for such participatory approaches, and the interdependence between human rights and peace is increasingly recognized internationally. Placing human rights at the center of peace and reconciliation efforts can help to address underlying causes of conflict, such as poverty, inequality and discrimination. It also contributes to a victim-focused approach which promotes rule of law and justice. A society without violence is in a better position to provide a high level of respect for its political, civil, economic, social and cultural rights.
The Philippines is in many ways a microcosm of the many challenges that are the starting point of Our Common Agenda. Climate change, internal conflict and the impact of coronavirus hamper progress towards no poverty, zero hunger and good health. The Government, through social protection initiatives, job creation and other initiatives in the Philippine Development Plan (2017 -2022) is taking steps towards addressing some of these challenges, and the United Nations is ready to support these efforts.  
The world, and the Philippines, is at an inflection point – but inflection points provide us with opportunities to step up and make the right choices, internationally and within countries. When we recover better for a more equitable and sustainable world, we also lay the foundation for development, human rights and peace.
*Gustavo Gonzalez is the United Nations Resident Coordinator in the Philippines