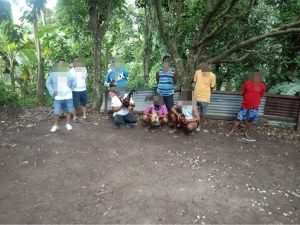 LAW ENFORCERS arrested nine individuals for engaging in cockfighting, an illegal activity in the city, in an operation in Brgy. Tacunan, Tugbok District, Saturday afternoon.
Major Noel Villahermosa, commander of Tugbok Police Station, identified the suspects as Belton Olmido, single, 33, Game Farm Handler; Francis Buenacosa, married, 39, Seaman; Cliford John Bausin, single, 31, Delivery Crew; Jerico Metuda, married, 44, self employed; Gilbert Avila, married, 33, Cockfighting Referee; Ruel Auxillo, 36, Construction Worker, and Mark Narciso Mercado, married, 42, Game Farm Handler, all of Brgy. Catalunan Grande.
Also arrested were Mohaimen Jamilon, married, 27, helper electrician, Brgy. Tacunan, and Cezar Gonzales, married, 50, and a resident of Bonifacio Extension.
The police report said the suspects were caught while betting even when the city government has outlawed the activity.
Seized from them were three fighting cocks and P1,200 in bets.
Villahermosa said there were others who eluded arrest as they sensed the arrival of the police team.
Cockfighting became the issue in the city last year when the first cases of COVID-19 were tracked to the holding of a derby at the New Matina Gallera in time for the founding anniversary celebration of the city.