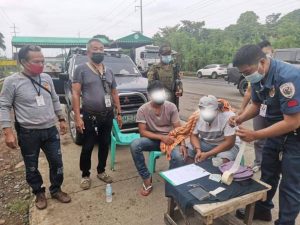 LAW ENFORCERS arrested two individuals who yielded about P20,000 in what was believed as shabu as they were passing through a checkpoint in Toril Saturday.
The report identified the two as Ric M Condino, 32, and Joshua Ravira, 21, single, both of Barangay Awang, Datu Odin Sinsuat, Maguindanao. 
The report added that the two were on a vehicle entering the city when it was flagged down at the checkpoint. 
During inspection, the illegal substance and other paraphernalia related to illegal drugs were found in their possession.
The team at the checkpoint turned the suspects to the Toril Police Station for detention.