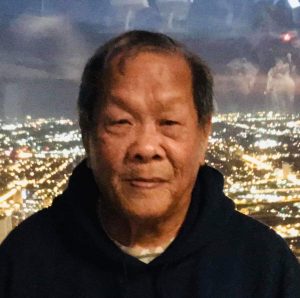 ONE of my three remaining unmarried children ( I have five children) is now engaged, but they requested that they'd do the announcement of the details themselves to surprise their countless friends and acquaintances. 
My first reaction after I heard the wedding plan: "Wow, congrats, finally!" 
Anyway, was it me who told my children when they were still that young: "Mag-aral kayong mabuti, at pag nakatapos maghanap-buhay, mag-pamilya, at bumuo ng sariling tahanan at humiwalay na sa amin." They just followed what I told them.
But while I am happy as a parent (Their mother, Virginia died seven years ago) to see my children journey to new life of their own, I cannot deny that there is also that fear and envy that someday the love and attention they shower me would no longer be mine alone but will be shared by their new found loves and partners in life.
On the other hand, admittedly, I didn't expect that at this age of mine, when I am already in the twilight years of my long journey with the living, I can still witness a wedding ceremony and be a part of the entourage again marching on the aisle to the altar with loved ones. For this I can only praise the Almighty for continuously watching me through all these years.
But while the happy couple has already in mind the date and venue of  the ceremony as well as the identities of the principal sponsors and other members in the entourage, I still advised them to give attention to the health protocols the government is asking the people to observe to avoid getting infected by the deadly COVID-19 that is continuously threatening the health of the people and economy across the globe. 
Celebrating church wedding and other gatherings at this time of the pandemic is prohibited. We will never know when this unprecedented disease will hit anyone or when it ends the sufferings of mankind. 
                                             -o0o-
Even in my early adolescent years I've already experienced having this running nose and sore throat whenever I wake up in the morning. But the disorder suddenly disappeared as the day passed by without me taking any medication. 
I was diagnosed with inflammatory disease in 1985 and since then I have taken medication for cold every time it occurs which my doctor said caused by allergy – changes in temperature or dust.
Inflammatory diseases include a vast array of disorders and conditions that are characterized by inflammation. Examples include allergy, asthma, autoimmune disease, coeliac disease, glomerulonephritis, hepatitis, inflammatory bowel disease, reperfusion injury and transplant rejection (Wikipedia).
I believe that it is in the family genes and has been passed on from generation to generation. My mother who died at the age of 83 had the disease until her death 1985. 
All of my five late siblings and their children also suffered from it, while all of my five children and grandchildren here and abroad also have the disease until today. 
The disorder on my running nose and sore throat surfaced again in the last few days after almost five years without it. I do not know why. I am now fully vaccinated against the pandemic but I am not blaming the vax. Nonetheless, I have my medication ready and my immune system responded beautifully.  
I believe that the "Ber" months have something to do with the recurrence when weather temperature seems affected by climate change. Dapat malamig na ngayon, pero bakit mainit parin ang panahon!
                                             -o0o-
This post-war newspaper was again reverted from its daily issue to thrice weekly publication that started last week.
I do not know the reason yet, but let me guess. The high cost of maintaining a daily publication and wages of the staff, or the management is only in mind to protect the health and wellbeing of its employees from continued exposure against the deadly COVID-19 could be the major reasons.
But let me assure our advertisers and readers that although we will be in a thrice weekly frequency again  we will continue to adhere to the principles of informing and educating the community which we're doing the last 74 years of the TIMES existence, and remain true to this paper's slogan that: "Eternal Vigilance is the Price of Freedom."