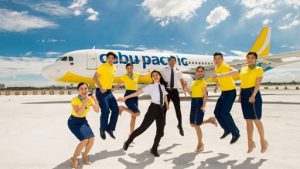 THE Philippines' leading carrier, Cebu Pacific (PSE: CEB), has implemented its Test Before Boarding (TBB) program for passengers bound for Hong Kong as part of the airline's multi-layered approach to ensure everyJuan will fly safely. 
CEB will shoulder the cost of the Antigen test or TBB until September 30. 
Passengers are advised to directly proceed to the Philippine Airport Diagnostic Laboratory (PADLAB) located at the second floor, NAIA Terminal 3 pre-departure area (near Gate 6), four hours before the scheduled time of departure. Testing for Hong Kong-bound passengers is open from 1:30AM-3:30AM six times weekly. 
Antigen Test results will be released within 30 minutes, and only passengers with negative results may proceed to the check-in area. 
Guests who will be unable to take the Antigen Test or receive a positive test result will not be accepted for check-in. They may select their preferred option through the Manage Booking portal on the Cebu Pacific website (http://bit.ly/CEBmanageflight) until 30 days from date of departure: 
 –Rebook for travel within 60 days no additional cost, following CEB's permanent   removal of change fees. Fare difference waived. 
–Store the amount in a virtual CEB wallet valid for two (2) years and use this to either book a new flight or pay for add-ons (e.g. baggage allowance, seat selection, etc.) 
–The refund process may take up to two (2) months from the date of request. 
Passengers are advised to update their contact details via (bit.ly/CEBUpdateInfo) to receive email notifications on flight reminders and updates.  
Before going to the airport, passengers are advised to check the travel requirements, safety protocols, and frequently asked questions (FAQs) on the CEB website: (bit.ly/CEBFaqs] 
For other questions or concerns, passengers may send a message via Charlie the chatbot on the Cebu Pacific website, or through CEB's official Facebook and Twitter accounts.  
CEB has been rated 7/7 stars by airlineratings.com for its COVID-19 compliance as it continues to implement a multi-layered approach to safety, in accordance with global aviation standards. These include daily extensive cleaning and disinfection protocols for all aircraft and facilities, antigen testing before duty for all frontliners and crew members, and contactless flight procedures. Its jet aircraft are equipped with hospital grade HEPA air filters, keeping viruses at bay.