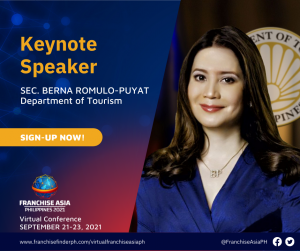 More than 30 international and local experts will present fresh ideas that will help the local franchising industry rise from the lingering effects of the pandemic at the three-day Franchise Asia Philippines (FAPHL) 2021 Virtual Conference slated on September 21 to 23.
Aptly themed "Igniting Recovery: The Future of Franchising", the Philippine Franchise Association (PFA) seeks to spark the passion and drive of the Philippine franchising sector rather than merely wait on the sidelines and let the pandemic deal more crippling blows to the industry.
"We put together more than 30 of the most sought-after industry experts and renowned leaders who will be featured in over 20 highly dynamic and curated sessions compressed in three full days from September 21 to 23," PFA Chairman Richard V. Sanz shared. "We fully believe that the Philippine franchising sector is still headed to more opportunities… That is why we have pushed through the holding of Franchise Asia Philippines 2021."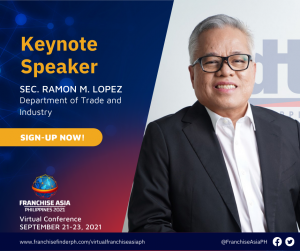 PFA President Sherill R. Quintana said the PFA leadership decided to adapt to the situation and find ways to serve the members, opting not to cower in fear and merely wait for "normalcy". 
"We added new and exciting session formats to make sure the FAPHL 2021 Virtual Conference will unravel the roadblocks and complexities of the unending disruptions in the business landscape.  Through empowering contents and thought-provoking discussions, the virtual conference will be able to unlock opportunities and provide exceptional learnings," Quintana stressed.
The Virtual Conference sessions and topics are specially curated to help in the creation of a roadmap for the future of the Philippine franchising sector. 
The Keynote Presentations to be spearheaded by Trade and Industry Secretary Ramon Lopez and Tourism Secretary Bernadette Romulo-Puyat will discuss relevant and timely contents about the future of business, economy, industry updates that could help everyone in this world of disruption.
The Plenary Sessions will feature the most influential speakers and renowned leaders such as Al Panlilio of the PLDT Group, Jos Ortega of Havas Ortega and International Speakers from Canada and USA – Matthew Haller from International Franchise Association (IFA USA), Brad Sugars from ActionCOACH (USA), Robert Locascio from LivePerson (USA), Dr. Ben Litalien, CFE from Franchise Well Consulting (USA), Dr. Rajagopal Raghunathan the Author of the Award Winning Book "If you're So Smart, Why Aren't you Happy" and Ira Bernard Teich of The Teich  Group (Canada).
The Franchisee Panel Sessions will showcase successful franchisors Michael Liew from MarryBrown (Malaysia), Minodh De Sylva from Island Tea Company (Philippines) and Ernie Koh from Commune Lifestyle Pte Ltd, (Singapore) and franchisees Cynthia A. Aliño of 7-Eleven, Jess Nicdao of Jollibee, Chowking and Mang Inasal and Joana Marie De Jesus Valeriano of Nails Dot Glow where they will share and discuss their unique experiences, practical insights and strategies on how they sail through these trying times, bounce back, and ignite resiliency towards future growth.
The C-Suite Forum is the newest and the most exciting session that the Virtual Conference is offering! This session is specially designed to tackle area-focused tracks about important business operations happening in concurrent breakout sessions. This is the first time that PFA will be doing this. Participants will be able to meet and exchange insights with renowned C-level industry experts who will share their thought-leadership, strategies and best practices. These sessions are moderated by equally experienced industry leaders so open discussions will definitely have empowering exchange of ideas and sharing of valuable insights. 
NextGen in Franchising! 
Of course, the FAPHL 2021 Conference will not be complete without the NextGen in Franchising! We will hear the Final Pitch of the Top 3 Finalists of the NextGen as these entrepreneurs introduce their highly franchisable brands and talk about why they deserve to be the next winner of the NextGen in Franchising 2021.
So don't miss this chance to listen to the most sought after leaders as they unselfishly share their insights and experiences.
Franchise Asia Philippines 2021 Virtual Conference and Expo is made possible through the strong support of BPI, PLDT Enterprise, InLife Insular Health Care as diamond partners; 7-Eleven, Seaoil Phils. Inc., Phoenix Petroleum, TGP Pharma as platinum partners; LT&G Credit Line Corp., Francorp as gold partners; Oryspa, Max's Group, Megaworld, SM Supermalls as silver partners; Bibingkinitan!, Potato Corner, International Workplace Group, Ilaw Atbp, K2 Pharmacy, Jollibee, Pure Nectar, Shawarma Shack, Mister Donut, KFC, Tokyo Tokyo, Meralco, Araneta Center, Robinsons Malls, Vista Mall as bronze partners; Bench, CBRC Vice, Chowking, Greenwich, Living Water, Mang Inasal, Red Ribbon, Shakey's, Wendy's, UFranchise, Blooming Ventures, Coolaire Consolidated, Zoom Lab as event partners; Philippine Star, Business World, Manila Bulletin, Philippine Daily Inquirer, Business Mirror, Malaya Business Insight, Manila Times, Daily Tribune, Manila Standard, ABS CBN, Teleradyo, ANC as media partners; and Media Blitz Group as the official PR partner.