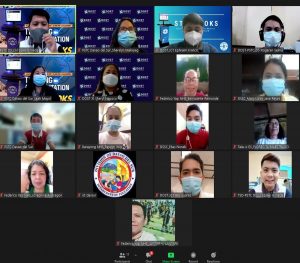 BRINGING Science and Technology closer to the people, the Science and Technology Academic and Research-Based Openly Operated KioskS (Starbooks) levels up education in the new normal. In partnership with the Department of Education (DepEd) – Schools Division of Davao del Sur, the Department of Science and Technology XI (DOST XI), through its Provincial Science & Technology Center in Davao del Sur (PSTC DS), hosted the Virtual Orientation and Training on the Use of STARBOOKS on August 17, 2021 via an online platform.
The said activity was participated by School Heads, School ICT Coordinators and Teachers of the public school beneficiaries of DOST's Community Empowerment through Science and Technology (CEST) Project from the Municipality of Sulop and Barangay Saliducon in the Municipality of Sta. Cruz, Davao del Sur.
Mr. Nelson C. Lopez, CESO V, Schools Division Superintendent of DepEd- Davao del Sur Division, graced the event and extended his gratitude to DOST for choosing the public schools as beneficiaries of the program.
Twelve public elementary schools, one public high school, and one state college- extension campus will benefit from the CEST project of DOST, where Starbooks is one of the interventions given under the key entry point, Human Resource Development.
The training featured the latest upgraded version of Starbookswhich is accessible both offline and online and now contains K-12 learning materials. Different Starbooks Apps were also highlighted such as the Starbooks Quiz App and the Starbooks GeoMap App. Highlighted was the gamified version of the Starbooks Quiz App- the Starbooks Whiz App, which is an offline educational and fun android mobile application that enables users to play by answering Science and Math questions in Solo, Duel and Game of 5 modes. Like any gaming apps, it also allows power and level upgrades.
Starbooks is the first Philippine Science Digital Library in a box created by the Science and Technology Information Institute of the Department of Science and Technology (STII-DOST). It is a compendium of various learning materials from videos to full-text articles and even published researches. DOST XI S&T Information and Promotion