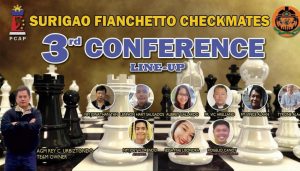 THE youth-laden Surigao Fianchetto Checkmates, who overcame Team Cordova from the Province of Cebu, 12-9 in the opener, face off the 2nd Conference champion Iloilo in tonight's, September 18 resumption of the Professional Chess Association of the Philippines (PCAP) 3rd Conference rivalry via lichess.org.
Blitz showdown (3 minutes with 2 second increment) starts at 7 p.m. sharp, followed by the rapid contest (15 minutes without increment) at 7:30 pm.
Davao City's National Master Jonathan Tan and Philippine Airforce stalwart Lennon Hart Salgados played the heroics for Surigao's breathtaking start against Cordova as they both unleashed a perfect 4 of 4 performance on the top boards.
NM Tan waylaid Mark Mangubat on board 1, while Lennon Hart zeroed in on Raymund Abellana on board 2 to set the tone for Surigao's pulsating 3-point comeback win after yielding the first blitz tussle at 3-4.
NM Tan, Salgados and company retaliated in the rapid duel, 9-5 for the reversal of fortune.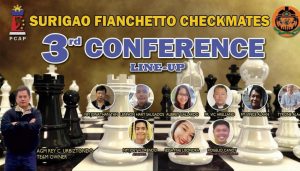 A different route taken by the powerhouse Iloilo Kisela Knights of Grandmaster Rogelio Antonio Jr. and former child prodigy Karl Victor Ochoa who crushed Palawan, 18-3 to show that there's still a force to reckon with.
Nonetheless, Surigao team owner in newly-recognized Arena Grandmaster Rey Urbiztondo said the Mindanao bets have the chance to upstage GM Antonio and the Iloilo Knights as "the team is high morale with Congressman Robert 'Ace' Barbers throwing in financial support for our PCAP campaign."
A former region head of Metrobank, Urbiztondo said that "putting up a PCAP chess team on your own is such a daunting task i dared accept for the love of the game."
"Admittedly, we're not that financially well-off when we accepted the challenge of fielding a Mindanao team for PCAP. The support of Congressman Barbers is really a big help since we all know that stomach is essential to a chess player's development," said Urbiztondo.
Other matches on Wednesday night saw San Juan, Rizal and Toledo pulling off similar 12.5-8.5 victory over Caloocan, Cagayan Province and Cebu, respectively.
Pasig, Negros and Lapu-lapu showed no mercy opposite Cavite (16.5-4.5), Iriga (15.5-5.5) and Mindoro (13-8) in that order.
This, as Manila and Olongapo edged Laguna (12-9) and Isabela (11-10). (Lynde Salgados)