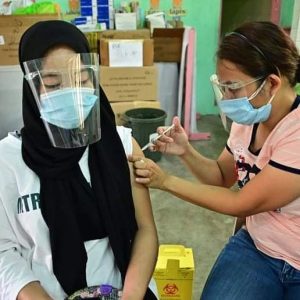 DAVAO CITY (PIA) – Davaoeños who got vaccinated may start generating their digital vaccination certificate starting Sept. 20.
Guesting in the One Davao Virtual Presser, Engr. Albert Gabriel of the Department of Information Communication Technology (DICT) Mindanao Cluster 3 announced that vaccinated citizens can access directly the digital certificate through a self-service portal.
" This means that anyone who has a laptop or computer at home may just visit the portal and they can easily download, save, and even have their vaccination certificate printed", Engr. Gabriel said.
The digital vaccination certificate or VaxCertPH is a project initiated by the DICT which is mandated through RA 11525 to develop digital systems and applications to meet the objectives of the COVID19 Vaccination Program.
The Digital Vaccination Certificate (DVC) is used to represent the COVID-19 vaccination status of a citizen of the Philippines and non-Filipino citizens vaccinated in the Philippines. The said project has started to roll out in the National Capital Region (NCR) and in Baguio City. 
Gabriel explained that there is a need to have a uniform and standard certification that is accessible, secure, and can be recognized internationally. 
" So far, the ones who are really needing and requesting for the vaccination certificate are our Filipino overseas workers who are set to leave the country and work abroad. The vaccination certificate is a requirement asked from them", he added.
The current vaccination cards produced and issued by the different local government units are said to be physical cards that can get lost and destroyed easily.
It was also difficult for requesting entities to validate the authenticity of the existing vaccination cards because there was no standard template used before for the vaccine card. Each LGU produces its own card with its own template and design. This also makes the physical vaccination cards easily falsified.
With the VaxCertPH, each vaccinated citizen is ensured that information gathered from the database is safe and secure. Every individual is also given the convenience and direct access to the digital certification through the centralized portal. 
"But for those who do not have their computer device or internet connectivity, we have also requested our LGUs to set up a VaxCertPH booth where individuals like them can go to and seek assistance from. Each DICT office also allocates at least one computer device intended for this purpose," Gabriel said.
For now, the DICT speeds up its capacity-building assistance to the different LGUs as the latter upload vaccination records, perform guided generation of digital certificates for vaccinees who do not have internet access, computer, or smart devices.
He emphasized the need for the LGUs to be careful in building the database of the vaccination program by providing accurate information and details most especially those coming from the vaccinated individual. 
The LGUs are also tasked to validate and rectify record-related issues of the vaccinees as well as coordinate with contact centers to respond to inquiries. (PIA XI/Frances Mae Macapagat)