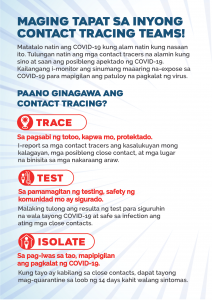 THE DAVAO City COVID-19 Task Force is now working on the creation of guidelines for home isolation amid the surge of cases in the city to address the overwhelming number of positive patients inside healthcare facilities.
Speaking on Sept. 15 over the Davao City Disaster Radio (DCDR), spokesperson Dr. Michelle Schlosser said the Davao City Health Office (CHO) and the Department of Health (DOH) are now coordinating to come up with the guidelines.
"Atong gina-entertain ang home isolation sa atong mga COVID-positive individuals only for a period of time nga naa tay surge and persistent ang pagtaas sa atong cases (We are entertaining home isolation for our COVID-19 positive individuals only for the period that we have a surge and the number of cases is persistently rising)," Schlosser said.
She added that such an option was taken into consideration to decongest the hospitals and temporary treatment and monitoring facilities (TTMF) and help prioritize those in dire need of medical assistance.
"We are one step ahead sa mga posibleng mahitabo if ever ma-overwhelm nato ang mga hospitals and TTMF. At least, we do have this option, this home isolation, para ma-accommodate sa atong mga hospitals ug TTMF katong kinahanglan gyud nga ibutang sa TTMF and hospitals (We are one step ahead if ever our hospitals and TTMF will be overwhelmed. At least, we have home isolation as an option to accommodate those who need to be put in hospitals and TTMF)," the health official said.
Based on the Department of the Interior and Local Government (DILG) guidelines on the stricter conduct of home quarantine for mild and asymptomatic COVID-19 patients, positive patients are only allowed to be isolated at home provided that the patient has his/her separate room.
The patient must also have his/her bathroom and there are no household members vulnerable or have co-morbidities (senior citizens, people with underlying health conditions, and pregnant women).
"We are waiting for the guidelines para ma in-place na nato ang pagbuhat nato sa isolation. We have to have guidelines because dili pasabot nga muingon ang tao nga gusto ko mag home isolate, pwede na (we are waiting for the guidelines before we allow home isolation. We have to have guidelines because it doesn't mean that if one wants to be isolated at home, we will just let it). There should be a conducive place for isolation," she said.
Those who would want to opt for home isolation will be assessed if they indeed are qualified for it.
She highlighted that moderate, severe, and critical cases shall still be transferred to medical facilities to prevent the complication from progressing while only mild and asymptomatic cases are allowed for home quarantine.
Schlosser said that the arrangement is only applicable in the meantime while the city is grappling with a sharp rise of COVID-19 cases. When the numbers go down and the hospitals and TTMF can already accommodate all the patients, home isolation will no longer be allowed.