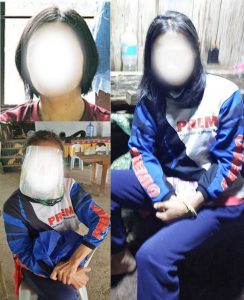 A WANTED top leader of the New People's Army(NPA) was arrested on multiple charges by the combined Army and police forces at Purok 3, Barangay Paitan, Quezon, Bukidnon on Sept. 15.
The military identified her as Adelaida "Loida" Magpatok who was the former secretary of the Far South Mindanao Region, National Democratic (NDF) consultant, and also a member of its Central Committee.
Adelaida was arrested in an operation launched by the joint forces of the 88th Infantry Battalion, 3rd Infantry Battalion, Philippine National Police (PNP) Quezon, and AFP Intelligence units based on the warrant of arrest dated Sept. 3, 2001, issued by Regional Trial Court (RTC) Branch 7 Executive Judge Zenaida Placer in Bayugan, Agusan del Sur for robbery with double homicide and damage to properties.  
Adelaida has another standing arrest warrant for murder charged before RTC Branch 10 in Cabadbaran City, Agusan del Norte issued by Presiding Judge Orlando Doyon on Sept. 10, 2001. 
Maj. Alex Mindanao, the Eastern Mindanao Command (EastMinCom) spokesperson, said Adelaide has been considered by the PNP as one of the most wanted persons. She is currently detained at the Quezon Police Precinct for proper disposition.
Lt. Gen. Greg T. Almerol, commander of Eastern Mindanao Command (EastMinCom), lauded the joint AFP forces and the PNP for the recent accomplishment.
"This is but an ultimate example that the security forces could accomplish more if there is synergy among us. Together, we can bring the peace and security situation in the country to newer heights," Almerol said.
He added that every arrest of a key NPA leader brings the country one step closer to its ultimate goal of becoming an insurgency-free nation. He further said that this victory is not only a milestone for the EastMinCom but also a triumph for the people of Eastern Mindanao. 
"I enjoin the people to continue cultivating the culture of peace and security as we aim to make our country free from any threats of terrorism," Almerol said.