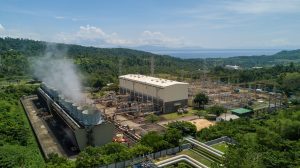 PAMPANGA Electric Cooperative II (PELCO II) is shifting to a cleaner and more sustainable energy source, thus partnering with AboitizPower for a 40-MW supply of Cleanergy for the province of Pampanga over the next 10 years.
The power supply agreement, signed in July 2021, signals the delivery of clean and renewable energy to households and businesses within the PELCO II franchise area. These include the municipalities of Guagua, Sasmuan, Bacolor, Sta. Rita, Mabalacat, and Lubao, whose Cleanergy supply is sourced from the Tiwi-Makban geothermal power plants located in the provinces of Laguna, Batangas, and Albay, and operated and managed by AboitizPower subsidiary, AP Renewables, Inc. (APRI).
 The partnership with AboitizPower was formalized under a Competitive Selection Process (CSP) initiated by PELCO II. Facilitated by the Bids and Awards Committee, a number of power companies participated in the CSP in a move to fulfill PELCO II's renewable energy requirements and help support its mission to "provide reasonable electricity rate and deliver the best possible service towards Member-Consumer's satisfaction". AboitizPower emerged as the chosen energy supplier in a selection process that lasted four months. The conduct of this CSP is aligned with the Department of Energy's goal of upholding clear, transparent, and fair energy procurement processes by various power players.
"This partnership reinforces AboitizPower's role in promoting the use of renewable energy in the country as we strive to provide reliable power supply and integrate environmental stewardship in our operations. It is through the support and trust of partners like PELCO II that AboitizPower is able to fulfill its mission of Advancing Business and Communities and live up to its promise of being a pillar of inclusive growth for the country," APRI president and chief operating officer Dennis B. Jordan said during the contract signing held in Clark, Pampanga.
AboitizPower, together with its partners, is currently the Philippines' largest owner and operator of renewable energy based on installed capacity. To continue supporting businesses and organizations that are looking to shift to more sustainable operations, AboitizPower is set to significantly increase its Cleanergy capacity to 4,600 MW in the next 10 years, resulting in a 50:50 balance between its renewable and thermal portfolios by 2030. This aspirational target is fully supportive of the government's efforts to build the Philippine renewable energy market and is well aligned with global renewable energy goals.
For his part, PELCO II general manager Amador Guevarra also acknowledged the value of the partnership with AboitizPower in driving the progress of the province of Pampanga.
"We are hopeful that this partnership with AboitizPower will really contribute to the development of Pampanga and expand the use of renewable energy in the country. We all know that the focus of government efforts to develop North Luzon is concentrated on Pampanga. Our Technical Working Group (TWG) has chosen AboitizPower to be the most responsive and compliant bidder, and we are looking forward to realizing the benefits of having them as our new supplier of RE for development projects for households and businesses in the region," Guevarra said. PR