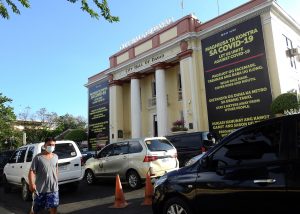 THE LOCAL government here will continue its contact tracing drive despite the limited capacity of the reverse transcription-polymerase chain reaction (RT-PCR) tests.  
Dr. Michelle Schlosser, the spokesperson of the Davao City COVID-19 Task Force, said the continued contact tracing will ensure that individuals exposed to positive cases would be advised on what to do. This is also part of the city government's test, trace and treat program during the COVID-19 pandemic.
Schlosser said the city government limited the swab test to F1 or the first generation contact as a measure to cope with the lack of supply of detection kits and the breakdown of the molecular laboratory extraction machine to run swab specimens in the Southern Philippines Medical Center (SPMC). 
Schlosser in an interview with the Davao City Disaster Radio said the prioritization of the swab testing for F1, or first-generation contacts, and persons with Influenza-like Symptoms (ILIs) does not mean suspension of the contact tracing for the second generation (F2) and third-generation (F3) close contacts is only a temporary measure until the machine problem is fixed.
"Dili nato undangon ang contact tracing, ang swabbing lang naapektohan, ayaw katingala ug tawagan mo sa contact tracer. We just want to make sure na na-advise sila as F2. Ang mga F2 and F3 -they are not mandated to isolate but if they develop symptoms, they have to be mandatorily swabbed (We will not stop the contact tracing because only the swabbing is affected. Do not be surprised if you will be called by a contact tracer. We just want to make sure that F2s are advised. The F2 and F3 are not mandated to isolate, but if they develop symptoms, they have to be mandatorily swabbed)," Schlosser said.
She said that those under the second-generation close contacts are at risk of developing COVID-19 symptoms. Once the symptoms emerge, being regarded as ILIs, they can become priority persons for the swab test.
She said the swabbing of individuals with ILIs and COVID-19 symptoms is mandatory based on Executive Order 18, Series of 2021, "An Order Providing for Heightened Surveillance and Response of COVID-19 Cases in Davao City."
The World Health Organization defines ILI as an acute respiratory infection experiencing a measured fever of more than or equal to 38 degrees Celsius; cough; with onset within the last ten (10) days.
Schlosser said that the Los Amigos Molecular Laboratory is functional now but it does not have the same capacity as the SPMC laboratory.
Schlosser said testing kits have already arrived but while the processing labs of specimens are limited, the recent limitations issued on swab testing are temporarily enforced until the regular testing capacity is back. Those who seek to be swabbed may opt to go to private swabbing centers at their own expense.