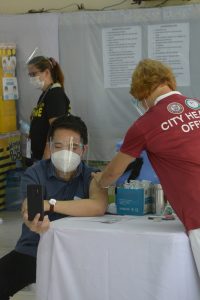 MORE than 9 in 10 new COVID-19 patients contact-traced from Sept. 5 to 11 were unvaccinated. 
Davao City recorded 3,304 new cases during the period and only 293 of them were vaccinated, representing 8.86 percent. Meanwhile, from September 5 to 11, Davao City logged 59 deaths. Of this number, 55 or 93.22 percent were unvaccinated while four or 6.77 were vaccinated. 
Mayor Sara Duterte bared this during the 87.5 Davao City Disaster Radio (DCDR) program held Monday, September 13.
"The unvaccinated is 91.13 percent and then gusto tag breakdown, kining data paunsa nato pag-relate sa atoang regular daily life? Makita nato numbers ni sya nga gikuha nato sa positive cases nato sa COVID-19. Dunay dako nga diperensya kung vaccinated ka o unvaccinated ka. This should guide us nga magdecide magpabakuna na (The unvaccinated is 91.13 perecent and if we want a breakdown, how can we relate this data to our daily lives? We see the numbers of our COVID-19 positive cases. There is a big difference if you are vaccinated or unvaccinated. This should guide us to decide to get inoculated)," the mayor said.
Of the 293 vaccinated COVID-19 cases, she said 148 received Sinovac shots; 72 had AstraZeneca; 62 got Pfizer, six with Moderna; four were jabbed with Johnson & Johnson; one had Sputnik.
Mayor Duterte said the city rolled out more Sinovac vaccines, which explains why the China-made vaccine brand has logged more COVID-19 cases than the rest of vaccines although all of them only manifested mild symptoms or are asymptomatic cases. 
Of the four vaccinated deaths, two got Sinovac jabs while the other two received Pfizer shots. Some vaccinated individuals who either become severe or critical COVID-19 cases and eventually die usually have not yet received their second doses.
The mayor also said, "Dili na ta kinahanglan mupili og bakuna because there's that chance sa tanang klase sa bakuna nga magpositive gihapon ka sa COVID-19. Ang importante lang dapat masabtan sa tanan dili ta severe or critical case nga kinahanglan ta musulod dinha sa ospital og magpakitabang sa atong mga doctors og mga health care workers nga overwhelmed na, gikapoy na sila, wala na silay pahulay, nangahadlok na sila. And in fact, very recently, namatyan sila diha sa SPMC og health care worker (We don't need to choose a vaccine brand because there's that chance that all kinds of vaccines will still not prevent you from getting infected with COVID-19. What's important is for everybody to understand that we won't be a severe or critical case that would need to be hospitalized and get help from our doctors and health care workers who are already overwhelmed, tired, without rest, and scared. Just recently, an SPMC health care worker died)."
Mayor Duterte added that people must understand that with the COVID-19 response, the hospitals can avoid being overwhelmed since hospital beds, oxygen tanks, doctors, and nurses can no longer take more patients.
 "Magpabakuna ba ko bisag there is a chance nga magpositive ko? Yes! Kay makatabang nga dili ka maging severe or critical case (Will I still get vaccinated even if there is a chance that I'll be infected with COVID-19? Yes! Because it would help you not to become a severe or critical case)," the local chief executive said.
She also cautioned vaccinated individuals not to be complacent in going out for social gatherings since 90 percent of the city's population is not yet vaccinated. Practicing minimum public health standards such as wearing of face mask, frequent hand washing, and social distancing will help prevent COVID-19 infection.
As of September 12, Davao City has 8,700 active cases of the total 43,039 COVID-19 cases since March 2020 with 33,027 total recoveries and 1,312 deaths.