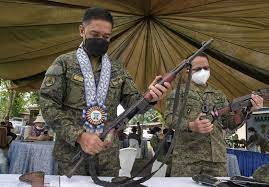 CAGAYAN DE ORO CITY (MindaNews) – RT-PCR swabs and antigen tests conducted on the 11 New People's Army rebels captured by Army soldiers following a series of encounters in Bukidnon province last week showed that seven of them are sick with the highly infectious coronavirus disease (COVID-19).
Brig. Gen. Ferdinand Barandon, commanding general of the 403rd Infantry Brigade, said they also have conducted antigen tests on the soldiers involved in the Sept. 10 clash in Valencia City and have placed them in isolation for the meantime.
Maj. Francisco Garello Jr., spokesperson of the Army's 4th Infantry Division, said the Valencia City health office informed them on Monday that three of the four rebels who were arrested have been found positive of COVID-19 based on the RT-PCR tests they made on the suspects. Two of those found positive, he added, were minors.
"The Valencia City health office conducted RT-PCR swab tests especially after the two minors were turned over to the City Social Welfare Development Office," Garello said.
The military said the four were captured during a clash in Purok 10, Sitio Nanulang, Barangay Laligan, Valencia City last September 10.
A military report said the soldiers also captured three M16 rifles and three AR15 rifles from the rebels.
Garello, meanwhile, said three of the nine rebels earlier captured in San Fernando town, Bukidnon, have been found positive of antigen tests. The three, he added, are now under the custody of San Fernando municipal health office.
Earlier, the military placed under isolation an entire squad of soldiers involved in the close quarter fighting with the NPA rebels in San Fernando town, Bukidnon last Sept. 10.
The military also placed under observation an entire platoon of soldiers that were also involved in another firefight in the same town.
Barandon said the medical findings on the rebels have raised a new dimension in their counter-insurgency campaign.
"We are buying antigen tests for our soldiers and training our medical teams on how to use them," Barandon said.
He said antigen tests are easier to use and portable compared to RT-PCR swabs, which can be spoiled in the field, "making [the former] an ideal first line of defense against COVID-19." (Froilan Gallardo / MindaNews)