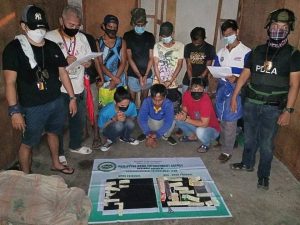 EIGHT alleged drug suspects were arrested by agents of the Philippine Drug Enforcement Agency XI together and the National Bureau of Investigation following a raid on a drug den in Purok 1-B, Barangay 76-A at 5:30 p.m. on Saturday, Sept. 11.
In a belated report, Rudy Valdez, 44, married, laborer and a resident of the place, was arrested for selling a sachet of shabu worth P1,000 to an operative who acted as poseur buyer. 
Nephi Noli Dimaandal, PDEA XI spokesman said during the operation, the law enforcers saw seven drug den visitors who were caught in the act of having a shabu session.
They were handcuffed and later identified as Rambo Andulao, John Mark Baguinda, Joshua Demain, Kenneth Dunguran, Goljhne Dymsoy, Patrick Henry Escandor and Jamil Abdul Rahman. 
During the search, the operatives found six sachets with suspected shabu with a total weight of more or less 20 grams with an estimated street value of P300,000. Meanwhile, assorted drug paraphernalia and the buy-bust marked money were also seized during the operation.
The suspects will be charged for violation of Section 5 (Sale of Dangerous Drugs) Section 6 (Maintenance of a Drug Den), Section 7 (Employees and Visitors of a Den), 13 (Possession of Dangerous Drugs During Parties, Social Gatherings or Meetings,) and Section 14 (Possession of Equipment, Instrument, Apparatus and Other Paraphernalia for Dangerous Drugs During Parties, Social Gatherings or Meetings), Article II of Republic Act 9165 or The Comprehensive Dangerous Drugs Act of 2002.