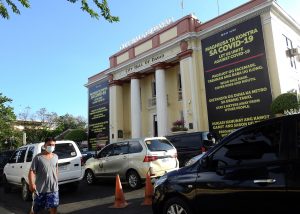 A COVID-19 Task Force official clarified that a fully vaccinated individual who has direct contact with a probable and confirmed positive patient must still complete the 14-day quarantine protocol.
During Friday's interview over the Davao City Disaster Radio (DCDR), Davao City COVID-19 Task Force spokesperson Dr. Michelle Schlosser clarified the reports regarding the shortened quarantine, particularly for people who already received their second dose.
"Under the Inter-Agency Task Force for the Management of Emerging Infectious Diseases (IATF-EID) 124-B Series of 2021, right after gi-release na siya, nag surge ang Manila and Cebu and then gi-defer na siya sa IATF, meaning gibawi siya nga guidelines (When the IATF-EID Resolution No.124-B was released, there was a surge of cases in Manila and Cebu and then the IATF deferred the guidelines)," Schlosser said.
In July, the IATF released the resolution initially allowing fully vaccinated individuals who are close contacts of probable and confirmed COVID-19 cases to just undergo a seven-day quarantine period, provided that the individual remains asymptomatic for the duration of the seven days with the first day being the immediate date after the last exposure.
The Department of Health (DOH) said that a person is considered exposed to an infected individual if he has a "face-to-face contact within one meter and for at least 15 minutes, direct physical contact, direct care for a patient without using personal protective equipment, or other situations as indicated by local risk assessments."
On Aug. 10, the national government suspended the protocol that allows the shortened seven-day quarantine period for fully-vaccinated travelers and individuals exposed to COVID-19 positive patients, saying that the measure was meant to slow down the transmission amid the surge of cases.
"Even if pag-release anang 124-B, wala na siya gi-adopt sa Davao City, wala na siya gi-adapt sa COVID-19 Task Force ug sa atong respected Mayor because dili siya applicable when ang isa ka lugar wala pa ka-achieve ug herd immunity (Even during the release of Resolution 124-B, the Davao City COVID-19 Task Force and Davao City Mayor Inday Sara Duterte did not adopt it because it does not apply when a certain place hasn't achieve herd immunity yet)," she said.
She added that even if an individual's Reverse Transcription – Polymerase Chain Reaction (RT-PCR) Test turned out negative and the close contact is asymptomatic, it still does not exempt them from being isolated for two weeks.