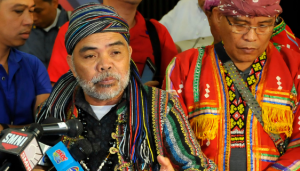 MEMBERS of the Ata tribe in Paquibato District have launched a campaign against the sale of their ancestral domains.
Last Monday, Datu Amansing Sampiano, Barangay Salapawan tribal chieftain, led the holding of a ritual to start the campaign as the community installed billboards where the words "Ancestral Domains are NOT FOR SALE" were printed.
"The ritual symbolized the remembrance and respect to their ancestors who gave them their ancestral domains. The ritual also emphasized the respect and guidance of Manama for the success of the project. The chicken used symbolizes the purity, strength, and peace of the Ata tribe," the tribe said in a statement.
The billboards were installed in Sitio Kiman-anaw, Barangay Salapawan, Paquibato District as part of the call of the community that under Indigenous Peoples Rights Act, or Republic 8371, selling of ancestral domains is strictly prohibited.
The provision of the law states: "The indigenous concept of ownership generally holds that ancestral domains are the ICC's/IP's [Indigenous Cultural Communities/Indigenous Peoples] private but community property, which belongs to all generations and therefore cannot be sold, disposed (of) or destroyed."
Violation of the law punishes the violator with at least nine months but not more than 12 years of imprisonment, or a fine of not less than P100,000 but not more than P500,000 or both dependent on the discretion of the court.
The city government said the campaign is in line with its Peace 911 program which not only implements peace and development projects but also protects the rights of possession and ownership of tribal communities over the ancestral domain land to preserve their culture. 
The tribe said its campaign will also be expanded to every barangay of the district to ensure that more people are informed.
The campaign is a realization of the tribe's call for the support of Mayor Sara Duterte to promote awareness and recognition of the indigenous peoples' rights, including those that cover the ancestral domains.
"We sincerely thank our Mayor Sara Duterte-Carpio [for her] response to our concern especially to protect our motherland. [We want to] respect and preserve our culture,"said Berino Mambo-o Sr., vice president of the community association.
In June, the City Information Office reported, the City Planning and Development Office assured the tribe of its support for the campaign as, based on the record of the office, the tribe has 65,796 hectares of ancestral domain with 56,506 hectares situated within the boundaries of the city.