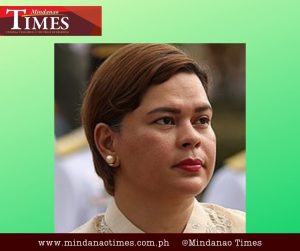 MAYOR Sara Duterte has dumped the call for her to run for President after her father's party has officially nominated him to run for Vice President.
Based on information that the City Information Office with the media, the mayor said she has to abandon the call for her to run for the highest post because "we both agreed only one of us will run for a national position in 2022."
On Wednesday, the faction of Energy Secretary Alfonso Cusi in the Partido Demokratiko ng Pilipinas-Lakas ng Bayan nominated Senator Christopher Lawrence Go and the President, as their candidates for President and Vice President, respectively, in the 2022 political derby.
This developed as some of the mayor's supporters have continued to hope for her to run for the post. Among them is Davao Occidental Gov. Claude Bautista of the Ituloy ang Pagbabago Movement who said that the political race is still approaching.
"Anything can happen. I always believe in God's will. What is important is that she has the desire to serve the people and everything will follow," said Bautista in a statement, adding that he continues to believe "in her leadership and I will always believe in her and I will always be her avid fan no matter what now and forever.
 Mayor Duterte said the nomination was the primary plan of the party based on her latest discussion with her father. The second plan, she added, was for Go to run for Vice President. 
Asked on whether her party, the Hugpong ng Pagbabago, will help her father's party in the campaign as it helped PDP-Laban in 2019 race, the mayor said: "No. I will not share my light this time."
As she has been doing, the presidential daughter also expressed her gratitude to her supporters as she "will be eternally thankful for your trust and confidence."
Asked about the nature of the relationship between her and her father at present, the mayor said it has been the same as "our politics do not interfere with our familial relationship."
Before this development, the mayor released two statements saying that she does not want to get involved in the plan of her father and his longtime assistant, Go.
Also, although she initially abandoned the plan to run for the post, in July, she announced she would conduct grassroots consultations to determine whether the call for her to run for President has the support of the ordinary voters, not just of the leaders who wanted her to run.
The mayor's regional party, HnP, has been negotiating with other major parties for possible alliance for the upcoming political exercises.
Although he has yet to comment on the latest announcement of the mayor, the party's spokesperson, former Davao del Norte governor Anthony G. del Rosario, earlier said in case she eventually decides to run, she will run as an independent candidate.