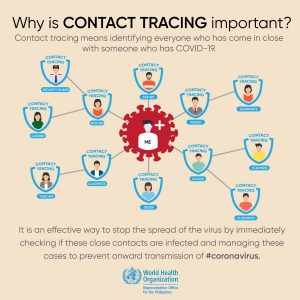 THE CITY government has started training representatives of the private sector to help in contacting those exposed to those COVID-19 infected individuals. 
Dr. Michelle Schlosser, City COVID-19 Task Force spokesperson, said the city government has started providing trainings to identify the close contacts up to the third generation of those infected with the virus to help arrest its spread.
She even said taht before the interview she did over the Davao City Disaster Radio on Wednesday, she was attending the training of the representatives of commercial banks, among them where some cases were reported.
"Nag-conduct ta og contact tracing training for the business sector – sa mga bangko, para they know also on how to do their own contact-tracing kay kabalo man ta kung unsa ka importante ang contact tracing. So we are teaching these individuals or these establishments so they will better identify who are their close contacts," Schlosser said.
She said it is also better that those who will inform those close contacts are their colleagues because some of them are apprehensive in submitting themselves to tests. 
"With the safety officer of each of the establishment, magtabangay sila with the contact tracer nato. Naa tay direct access sa ilahang organic contact tracer so mas ma-identify nato ang F1, F2, and F3. Mas easier ang communication with them," she said.
In the training, participants are taught how to conduct contact-tracing as well as assist them in undergoing the test. This will help their establishments sustain operations as they will not be placed on lockdowns if infections are detected in early stages and only a few are infected.
"Kabalo man ta nga detrimental ni siya sa atong economy. Kung naa tay pagtinabangay sa atong private sectors, dako ug chance nga macut-off ang chain of infection, dili pa gyud ta maka hurt sa atong ekonomiya," Schlosser added.
Among those tapped for the program are the business process outsourcing companies whose operations have been hampered as several of them were placed on lockdown due to high number of cases.