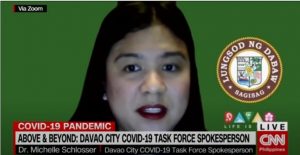 THE Davao City Covid-19 Task Force has urged Dabawenyos to get their anti-Covid jabs when it is their schedule at an assigned vaccination site and do away with the vaccine preference, saying, all vaccines, regardless of brands, protect and reduce the risk of severe coronavirus symptoms.
This, after the Task Force noted that some vaccination hubs allocated with anti-Covid vaccines are almost empty because people back away after learning of the type of vaccine to be administered. COVID-19 Spokesperson Dr. Michelle Schlosser during the Bida Bakunado Program over the Davao City Disaster Radio Friday said that the number of people per vaccination site depends upon the type of vaccines. "Naa tay ubay-ubay na vaccination sites na halos walay tao kay duna tay ginatawag na vaccination preference.
Naay uban karon na kahit naka schedule na dili sila muadto (Some vaccination sites is almost empty due to vaccine preference. Even those who are scheduled do not come because of type of vaccine)," Schlosser said. She sought the cooperation of the public and not "be choosy" because the city also depends on the vaccine allocation from the national government. "Manghangyo ko sa tanan na walay brand nga dili maka-proteksyon sa inyuha sa COVID-19 regardless ug bisan unsa pa nga brand sa vaccine ang tumong ana is to protect (I am asking the public, that there's no vaccine that cannot protect you from COVID-19.
Regardless of what kind of brand, there's only one goal and that is to protect from COVID-19)," Schlosser said. She underscored the need for people to be vaccinated as an additional layer of protection amid the rise of cases, especially the highly transmissible and contagious Delta variant of the Covid-19. On Monday during her weekly radio program, Davao City Mayor Inday Sara Duterte also reminded Dabawenyos not to choose brands of the vaccines because knows who can be the severe or critical case.
"Wala ta kahibalo who may become severe or critical. Kita on our own dili ta mahibalo kung kanus-a na or kita ba to. It is important na kung naay opportunity [magpabakuna] ug naa na schedule sa pagpabakuna, dili na ta magpili ug brand because every day counts in this pandemic (We do not know who may become severe or critical. We do not know when or if it is us, so it is important to avail of the vaccination once there is an opportunity.
We should not be choosy because every day counts in this pandemic." the mayor said. The mayor said the vaccination is one way to avoid severe cases of COVID-19 and avoid overwhelming the health system. Mayor Sara bared that the city's COVID-19 bed capacity is full in all hospitals. The Southern Philippines Medical Center (SPMC) has catered to patients more than its allotted or prepared beds. Davao City has 3,084 COVID-19 beds and of this number, 2,500 are TTMF/isolation beds.
The Temporary Treatment and Monitoring Facilities (TTMFs) have reached a 65 percent utilization rate and are even expected to be filled up depending on the turnover of cases. One of the ways to stem the increasing COVID-19 cases, the city mayor ordered the implementation of a fully operational work-from-home (WFH) and skeleton workforce arrangement in all barangays, city, and national government offices from September 8 to 26. She has also encouraged the private sector to do the same.
The city government has also approved the request of the Davao Doctors Hospital's (DDH) Home Care Program for COVID-19 positive patients in the wake of the massive surge in new cases. DDH aims to augment efforts amid the surge of COVID-19 cases that continues to overwhelm the city's healthcare facilities. CIO