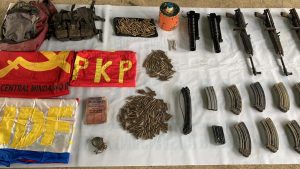 THE MILITARY reported that a clash between soldiers of the 88th Infantry Division and members of the New People's Army resulted in the death of four rebels and the capture of nine others, including a 12-year old boy in Barangay Mabuhay, San Fernando, Bukidnon on Wednesday.
Major Francisco Garello Jr., 4th Infantry Division spokesperson, however, said that those who were killed have yet to be identified as the soldiers seized 16 high-powered firearms.
The report said the encounter happened when the soldiers were responding to an information from residents about a group of rebels conducting recruitment and extortion activities 
According to the military report, an encounter happened after they responded to an information from residents that a group of NPAs were conducting recruitment and extortion activities in their community.
The operation that followed resulted in an encounter between the soldiers and the members of the Guerilla Front Malayag of the Sub Regional Committee 2 (SRC2) of the North Central Mindanao Regional Committee (NCMRC).
Maj. Gen. Romeo S Brawner Jr., division commander, said the encounter that lasted for an hour resulted in the seizure of the firearms and the capture of the rebels.
"It is a running gun battle wherein our troops were eventually chasing after the insurgents who were scampering towards different directions after the initial firefight," Brawner said.
Maj. Gen. Brawner Jr confirmed the said encounter and said that a platoon from 23IB that are conducting Focused Military Operations encountered more or less 25 CNTs believed to be remnants of GF4A of NCMRC led by Jelan Pinakilid alias Baking and 1st Platoon of HQF NEO of NCMRC led by Crisanto Ligayna alias Tazar. 
"I would like to convey also my congratulations to 23IB and 402nd Brigade for the job well done. This bespeaks the professionalism of our troops and their commitment to ensure that our people are protected from those who advocate violence in furtherance of their own agenda". 
He concluded that the 4ID campaign against the CTG are in the right track because civilians are now vigilant and participating in the fight against the CTG by providing vital information that led to the series of victories against the CTG.
"We do not want bloodshed against our fellow Filipinos, but we have a mandate to protect the communities from terrorist groups. Hence, we will relentlessly pursue the CTG in our AOR. Make no mistake that while we offer the CTG the opportunity to return to a peaceful path, they will face the consequences of using violence to further their agenda," he added.