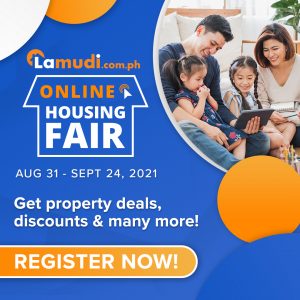 OFW-rich cities abroad contributed to the stable demand on local properties in strategic locations, including transit-oriented cities Pasay, Cavite, Kalibo, Cebu and Davao. Responding to this demand, the top real estate platform in the country Lamudi is launching another online housing fair that will gather the most trusted developers in the Philippines, some of which have developments in popular airport cities.
Cities abroad with a large population of overseas Filipino workers (OFWs) contributed to the top sources of international demand for local properties. Lamudi data showed that property seekers from Singapore, Dubai, Los Angeles, London, and Sydney were the most eager markets looking at real estate assets here in the country.
Aside from being the home of migrant Filipinos, these cities abroad have notably seen an increase in real estate values in the last year, with some in a red-hot housing market status. In London, for instance, the skyrocketing property prices and meager supply are making property ownership beyond reach, the London Free Press reported.
Other than OFWs, foreign investors are exploring assets in more stable markets outside of their respective countries. The Philippines is an ideal choice not only for its promising property sector, but also because of its English-speaking population. These investors may likely be scouting for countries where language differences won't be an issue when completing property-related transactions for business operations.
Preferred Locations of Overseas Market
Property seekers from the mentioned overseas locations have emerged as the top source of pageviews on transit-oriented locations such as Fort Bonifacio, Ortigas Avenue, Novaliches, and Cavite, as well as airport cities–hotspots that host aviation hubs–such as Pasay, Kalibo, and Davao.
The international interest in these airport cities may indicate that the overseas market is leaning towards locations that offer greater convenience and accessibility to air travels. This coincides with the profile of property seekers, OFWs and expats that need access to transportation infrastructure for work or business post-pandemic.
Pasay is an attractive property hotspot, buoyed by the improved Ninoy Aquino International Airport (NAIA). Last February, the aviation hub inaugurated an improved runway and an expanded terminal.  
Similarly, the interest in Kalibo's property market is likely supported by the aviation hub there, which was furnished with a newly rehabilitated passenger terminal building in June. Meanwhile, the modernization of Davao International Airport and the bidding for Cavite's Sangley International Airport are ongoing. The initiatives are expected to fan the demand for properties in the area in the long run.
Online Housing Fair Addresses International Demand
Given the strong overseas demand for properties in the country, Lamudi, the proptech company that brought the first and biggest online housing fair in the Philippines in May 2021, is back with a developer lineup that includes trusted names behind some of the Philippines' hottest developments, all in must-watch locations for their accessibility, convenience, and value-adding features. 
Offering special property previews and limited-time discounts, the participating companies include RLC Residences, AboitizLand, SOC Land, Golden Topper, Taft Properties, P.A Properties, Damosa Land, Solar Resources, Lumina Homes, Futura by Filinvest, Aspire by Filinvest, Priland, Worldwide Central Properties, Hausland Development Corporation, and the brokerage firm PropertyPRO.
With special promos from developers, giveaways from Lamudi, and speakers from home-related industries, event attendees will not only find their dream home online, they can also take advantage of the value-adding webinars.
Further adding value to the homebuying journey, Lamudi will be giving away exciting weekly giveaways. Property seekers who pre-registered for the event are qualified for the draw at the opening ceremony. Meanwhile, those who would fill up forms for inquiry at the event proper will have the chance to win at the weekly giveaways and closing ceremony. 
In partnership with Nook, AIDE App, KONE, and BDO, the event will run from August 31 to September 24 and will feature event partners the Pag-IBIG Fund, Zassy Green, Happy Helpers, Clean All PH, Great Eastern Termite and Pest Control, and Feng Shui Master Sofia Relosa, covering topics from pest prevention to availing of acquired assets. 
The official media partners of the second installment of the Lamudi Online Housing Fair 2021 include The Manila Times, Business Mirror, Business World Online, Malaya, Mindanao Times, Sunstar Davao, Sunstar Cebu, Manila Standard, Media Blast Digital and Real Estate Blog.
To register for the event, visit lamudi.com.ph/housingfair.