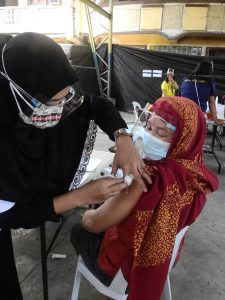 MAYOR Sara Duterte has approved the program of a private hospital in providing primary health care to COVID-19 patients at their homes as health facilities have been overwhelmed by the increasing number of daily cases.
Although the details of the program have yet to be revealed, a press statement said the mayor, in response to the letter of Dr. Ronald Tangente of Davao Doctors Hospital (DDH), said: "We hope that through our collective efforts, we may continue to work together and count on your support on our COVID-19 response measures in Davao City."
In that September 7 letter, the mayor also pointed out the need for more strategies to curb, if not completely stop, the spread of the virus as "as hospitals are currently overrun by the increasing number of patients every day."
The hospital, through its official Facebook page, also posted on Tuesday that its request is intended to help efforts as healthcare facilities have been overwhelmed with the surge of cases. 
"Details and mechanics of the DDH Home Care Program will be posted soon on our official social media channels," said the hospital in a statement.
Based on the report of the regional office of the Department of Health, the city had 327 new cases on Tuesday, bringing the total number of active cases to 7,018.
On Monday, the mayor revealed that the health group of the COVID-19 Task Force even recommended a stricter Enhanced Community Quarantine classification for the city, but that the recommendation had to be deferred because there was a need to look at the criteria necessary to consider in putting the city under the classification.
She added that there are also policies that need to be implemented even without raising the quarantine classification.
The Inter-Agency Task Force for the Management of Emerging Infectious Diseases extended the General Community Quarantine classification of the city until the end of the month.
Also on Monday, Duterte and the Southern Philippines Medical Center also said last week that it has to look for new rooms outside of its main facility because its units dedicated to COVID-19 patients were all full. 
The mayor has also ordered all government offices to adopt the work from home and skeleton workforce strategy in the next two weeks to curb the spread of the virus in work places. She also encouraged the private sector to adopt the same strategy