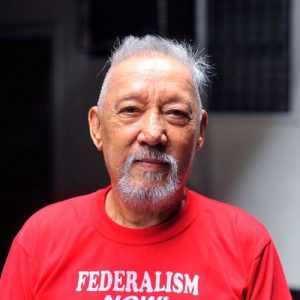 "OUR examination on the Gospel evidence will proceed in two steps. Firstly, we will succinctly review the various passages showing Jesus as a  promoter of peace both in teaching and in his actions. Then, we will see that this in no way prevents Him from adopting a critical stance on socio-political issues, to such an extent that this may truly be said to be revolutionary in his approach to these issues." (Nil Guillemette, S.J., "Jesus, Politics, and Violence", 1987)
Pope Francis in his book, titled "The Church of Mercy", 2014, similarly said: "In this day and age, unless Chistians are revolutionaries, they are not Christians. They must be revolutionaries through grace!| The span between Fr. Guiollemette and Pope Francis' statements above were only 17 years, a very short period in our Church's perspective. This humble Catholic writer today (2020) likewise states that based on Bible verses and, of course, on the very reliable observations of these two "giants" of the Catholic Church hierarchy, our Lord Jesus is, indeed, a "peaceful revolutionary".
Sad to day, this is perhaps one of the dilemmas of many Christians. They do not know the true nature of our Lord Jesus. We haven't been told by our catechists, evangelizers, any religious, priests, pastors, laity leaders nor head their sermons and homilies nor read from other books that our Lord Jesus is a "peaceful revolutionary". Thanks to Fr. Guillemette and Pope Francis for writing on this very important matter. Thanks to my daughter for sending me their books.
This knowledge of our Lord Jesus being a "peaceful revolutionary" is, let me stress again, based on our Holy Bible. Of course, it takes Bible experts to seriously analyze and deeply interpret this virtual information.
Surely many people with hidden agenda may not want to expose this truth about our Lord Jesus. Suppressing this crucial information did a lot of damage in many ways to our people and society. Hence, we hope, our Christian churches will lead to do the needful to rectify soonest this particular vital matter for greater transparency.
Peace does not necessarily mean absence of conflict nor preserving of the "familiar order or things" nor continuous status quo. Fr. Guillemette succinctly explained: "We have seen that Jesus, the Prince of Peace, came to turn the world upside down – precisely what the first Christians were accused of doing by their being faithful to Jesus." Acts 17:6 of our Bible reads, "These men who are selling the world in an uproar have come here too, and Jason has taken them in; and they are all acting contrary to the decrees of Caesar, saying that there is another King, Jesus. Now as Christians, we say: "Let's imitate our Lord Jesus as a "peaceful revolutionary "and peacefully turn upside down now our "cancerous" Philippine society through our collaborative efforts of pursuing Real Social Transformation and achieve true double liberation of our people and nation. This, undoubtedly, is a non-violent radical (change from the root) "political surgery", the only viable option to "cure a 4th degree cancerous" Philippine society and transform it into a healthy one.
Fr. Guillemette continues: That's why Jesus' revolution remains the most radical of all revolutions. He wanted to change the world utterly, changing the heart of man. Yet, his revolution was not meant to be merely "spiritual or individualistically pietist" – something purely religious or other-worldly. For, by attempting to make humans more fraternal and loving, he was undertaking a task which was among things, essentially political."
Our proposed prescription of Real Social Transformation involves all aspects of our lives – spiritual, social, economic, and political – alike our Lord Jesus peaceful revolution which was also encompassing. Thus, collaborative efforts of all our institutions are imperative for success.
More from Fr. Guillemette: "The difficulty of his followers through the centuries is to be faithful to all that Jesus was : a man of peace and, at the same time, a revolutionary. To pursue justice without being willing to pay the price of revolutionary change is to betray him. To seek revolution with means other than peaceful ones is also to betray him." (underlining mine) Wow! You "hit the nail on the head" with this statement Fr. Guillemette!
We, Christian Filipinos, better shape up. To succeed in our evangelization, education, authentic double liberation, we must truly IMITATE our Lord Jesus. First, start by developing our mindset and attitude of being "peaceful revolutionaries" and deserve the calling of Christians. Then our next move is to passionately and boldly follow the footsteps of our Saviour and commit ourselves to pursue peacefully and radically Real Social Transformation in our country for "abundant life." In doing this, we badly need also the guidance of the Holy Spirit and the grace of God the Father.
To imitate Christ in history, some of His attitudes are: fearless, selfless, self-denying, sacrificing, obedient, disciplined, passionate, with a spirit of service, etc. Even as a man He is beyond equal.
Pope Francis has this to say, "I prefer a thousand times a bruised Church than an ill Church!" The need for "the revolution of freedom or liberation to be under the grace of God and abide in Jesus' for "new Solidarity."
In the Philippines, the Second Plenary Council of the Philippines (PCP II) delegated to our Laity the challenging task of Social Transformation in 1991. Archbishop Oscar V. Cruz in his 2005 book, titled "Call of the Laity", wrote: "To set free and let go of people chained by oppression and poverty, to empower and launch them to find and assume their rightful place in society – this is the meaning and context of the work of liberation and redemption PCP II calls the Laity in the country to undertake and accomplish. A tall order through it may be, it is rightfully addressed. Who else can and may do this with the needed corporate strength and the imperative originating from a common Christian faith? What is wrong in secular society cannot but the immediate and proper concern of the Laity with their secular competence."
After 29 years, sorry to say we don't know what happened to this very crucial task for the liberation of our people and nation. Perhaps it is about time that our Catholic Church in the Philippines seriously review this matter and rectify, if there are things to be rectified, of such assignment. More discussion on this is in our forthcoming articles.
Real Social Transformation is not only a secular but also a spiritual concern. Reform in systems or structure is political with a moral or ethical dimension. People reform is more spiritual but with cultural dimensions as well. In a predominantly Christian nation, Christ's way is, undoubtedly, the most appropriate way for personal and societal transformation. Let's not be reluctant to truly imitate Christ's approach in this laudable endeavor of societal change. We Christians must also embrace Christ's courage, passion, boldness and love in this regard. Not to do so is to DENY HIM! No ifs and buts.
"Lord Jesus, please give us the boldness and passion we badly need to be "peaceful revolutionaries" in pursuing appropriate societal change in our country to truly liberate our people and nation. Amen."