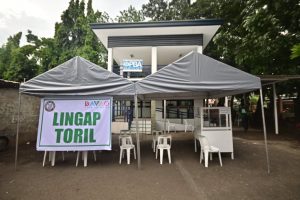 THE CITY government has added another Lingap Center, the third outside of the main one at the Southern Philippines Medical Center, for residents of Toril District and those living in nearby villages.
The Toril Lingap Center will help address the needs of the residents so that they will not be burdened to go to the SPMC to seek help, Mayor Sara Duterte said on Monday as the city government also set up two others in Marilog and Bunawan.
"Kadtong tulo ka areas kung unsa inyong makuha na assistance dinhi sa main office sa SPMC compound makuha ang atong tulo kabuok na satellite office for our Lingap, pareho lang na sila same system same list of requirements pareho lang na sila tanan. Dili namo kinahanglan muadto sa main office," he added.
On Monday, the center served six clients when it opened, said its focal person, Vincent Plarisan, as it is expected to serve 70 clients a day.
Plarisan called on clients to ensure that they follow minimum health standards like wearing masks and bring the necessary documents when they come to the center to seek help.
"Dako kaayong tabang kay ang Toril perting dakua karon pako kabalo ang uban, atong kaigsuunan nga mulupyo sa Toril district dili na sila makahago mubaba sa SPMC dako kaayo bintaha sa ila ilang pamasahe, ma minus-minusan ilang gasto," Plarisan told the City Information Office.