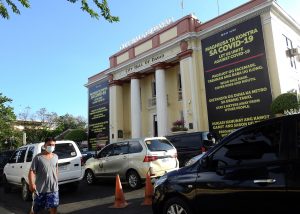 THE CITY government will require all of its employees regardless of status to get vaccinated on December 31 otherwise they will not be renewed, Mayor Sara Duterte said yesterday.
Over her regular Monday program at the Davao City Disaster Radio, Duterte said she will soon release an executive order on the vaccination requirement of the city government.
"We were already given ample time to get vaccinated," said the mayor, adding that those who will not get vaccinated "will not be renewed by January 1, 2022."
She added that regular employees who would violate the order, then it will be insubordination on their part.
Duterte added that both the City Legal Office and the Human Resources Management Office have both reviewed the executive order even as she urged other government offices and the public sector to find ways to ensure that all of their employees are fully vaccinated.
Because of the seriousness of the situation, she said, the city government even set up its own vaccination site so that its employees could be vaccinated. 
This developed as the mayor has challenged to a debate those advocating against vaccination against COVID-19 as the mayor pointed out that many of those who died were of the virus were unvaccinated.
"Kung kinsa pay gusto makiglalis aning bakuna na ni, tawaga lang ko ninyo and we will allot one radio program (for the debate)," the mayor said as she challenged behind those campaigning against the vaccination to present to her someone whose health deteriorated or who died solely because of the vaccine.
She said had the vaccination process been dangerous, :hagbay rako namatay (kay) daghan nag-ampo nga mamatay ko. Fully vaccinated po ako."
She urged residents to get vaccinated. "Importante po nga kung naa nay schedule nga magpabakuna, i grab ang opportunity nga magpabakuna ug di na ta mopili sa brand sa bakuna."
She said those who get vaccinated, although they still end up getting infected, they do not end up in critical condition. 
She said between August 29 to Sept 4, there were 46 who died of the virus, only four of them were vaccinated. 
"So makita nato sa numbers that many who have died are unvaccinated and officially that is also the feedback inside hospitals," she said, adding that one of those who died was a healthcare worker who refused to get inoculated.